Rajbhasha Award presented to Power Finance Corporation HONOR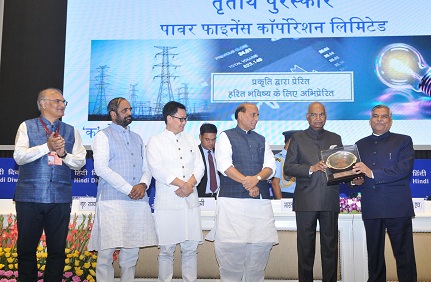 NEW DELHI: The President, Shri Ram Nath Kovind presented the Rajbhasa Puruskar to Power Finance Corporation ( PFC ) at the Hindi Divas Samaroh, in New Delhi on September 14, 2017. Shri Rajeev Sharma , CMD , PFC received the award . The Union Home Minister, Shri Rajnath Singh, the Ministers of State for Home Affairs, Shri Hansraj Gangaram Ahir and Shri Kiren Rijiju are also seen. 
Shri. Syed Adbul Fateh Khalid, Executive Director (Mines) inaugurating the Hindi Fortnight Celebrations on 14/09/2017 at LDC, Neyveli. Also seen are Shri. M.Raja Sekar, Executive Director (SME Conveyor & Mines), Shri N. Sankar, CGM/HR, Shri Sabapathi, CGM/TPS –I, Shri Hemanth Kumar, CGM/Mine- II.
Posted Date : 15-09-17
Categories : HONOR