SCOPE and Center for Creative Leadership USA Launch Study to Develop Future Fluent Leaders in PSEs SCOPE NEWS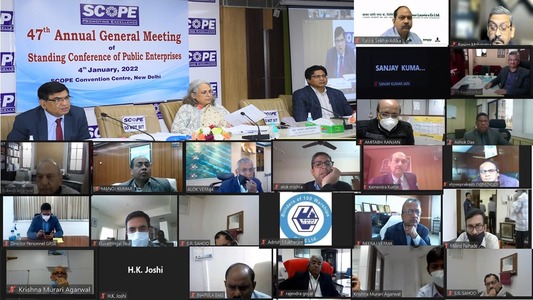 New Delhi: Standing Conference of Public Enterprises (SCOPE), and The Center for Creative Leadership (CCL),USA, engaged in learning and development with focus on effective leadership development, have signed a Memorandum of Understanding (MoU) to conduct a study on 'Developing Future Fluent Leaders in PSEs.' The MoU was signed between Mr Atul Sobti, Director General SCOPE and Mr. Muniinder Anand, MD-India & South Asia, CCL.
The MoU aims at conducting a study on assessing the prevailing leadership gaps and curating a learning module on developing effective and efficient leaders in the Indian Public Sector. The study shall adopt a qualitative and quantitative research methodology based on responses and experiences of the present leadership which would be further analyzed to identify relevant skills, mind sets, and experiences for future-fluent PSE leaders in India.
Posted Date : 05-08-20
Categories : SCOPE NEWS
Tag Cloud: SCOPE NEWS