Working in Coal India is matter of Pride: CMD, CIL PSU NEWS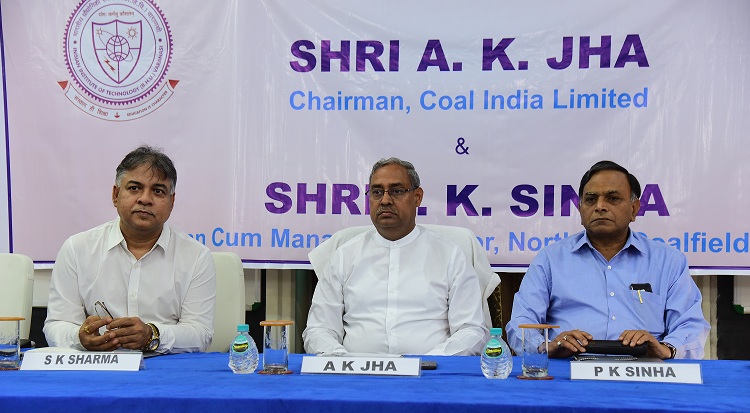 Singrauli: IIT BHU
invited
Shri Anil Kumar Jha,
Chairman,
Coal India Limited
on 29th March 2019 under Centennial Lecture Series in Centenary Celebration of Engineering Education 2018-20. Shri Jha delivered a lecture on
'The Current Challenges and Opportunities of Coal Mining in India.'
During his lecture, Shri Jha emphasized the role of Coal Industry in Energy Security of the nation and told a host of students attending the lecture that CIL needs a lot of talented and brilliant mining engineers to minimize and eliminate the loss of exchequer on the import of non-coking coal.
He highlighted the achievements of CIL through the historic journey from the beginning of coal mining through nationalization to achieving 600 Mt coal production this year in 2018-19.
During the interaction with students, he discussed the diversification plan of CIL into fertilizer, methanol, coal bed methane etc. He pointed out that though coal mining is hard work, it gives immense satisfaction as if a bulb is lighted in the remotest corner of the country, a miner is working 600 m below the ground or in an open cast mine at more than 45 degree Celsius temperature.
Shri Jha expressed his happiness over the MoU concluded between IIT, BHU and NCL for R&D Projects. He also expressed his confidence that both IIT, BHU and NCL will work together in taking up useful R&D for the industry which is need of the hour in changing industry atmosphere.
Shri Jha inaugurated the "National Research Center for Coal Quality Management &Utilisation" as well as newly renovated Rock Mechanics Laboratory.
He planted a sapling of "Banyan" tree at the center of the front lawn of the Department of Mining Engineering.
Posted Date : 30-03-19
Categories : PSU NEWS