DFCCIL appoints new MD Shri Ravindra Kumar Jain NEW FACES IN PSUS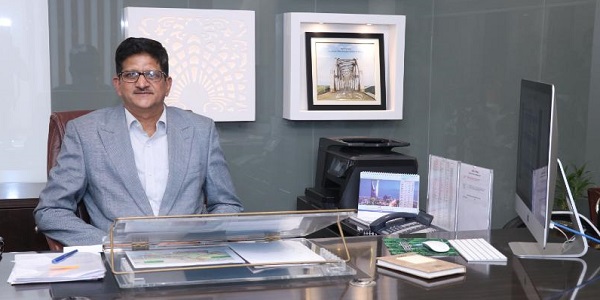 Shri Ravindra Kumar Jain (PSU Connect)
New Delhi: Shri Ravindra Kumar Jain, an officer of 'Indian Railway Service of Engineers' (IRSE) of 1986 batch has assumed charge as Managing Director, DFCCIL. He held the post of Chief Administrative Officer/Construction for Eastern Railways, Kolkata, Executive Director - Civil Engineering planning. Prior to this, he served as the DRM Samastipur division in East Central Railway.
After assuming the charge, Shri Jain had an interaction with all the field units and took stock of the progress of the projects. The Directors welcomed the MD and gave their firm commitment to work tirelessly to achieve the targets. He communicated to Team DFCCIL that DFC is a mega project and the investment in it should generate commensurate revenue. He further said that DFCCIL as a team has to perform or perish.
He emphasized the factors ailing DFC and asked each official to take the Four Pillar Concept for the work they are doing. First, Commissioning of the Project as per target, Second, Cost-effective Operation, Third Business Development to generate revenue commensurate with the investment and Fourth, Work of New Corridors to be taken up on priority.
He was adjudged outstanding DRM in 2018 for accomplishing manning of large numbers of Level crossings is a very short time-bound schedule. He also worked as ADRM at Rangiya division, NFR as well as Chairman RRB, Ajmer. His pioneering and memorable initiative in aesthetically depicting Mithila painting in the entire Madhubani Station and on the rake of Bihar Sampark Kranti was widely appreciated.
A technocrat par excellence, Shri Jain embodies a very high standard of professional prowess in the field of constructions of megaprojects eliciting all-round acclaim and wholesome recognition during his stints in various key positions in civil engineering departments and in other Administrative assignments in various zones of Indian Railways and PSU, demonstrating stellar expertise and innovative flair while heading all the senior management positions in Railways. This is a homecoming of sorts for Shri Jain who had served as CGM Ajmer from 2008 -2015 when the Ajmer unit had performed outstandingly winning the best Field Unit Shield.
Shri Jain is a B.E. (Civil Engg) Engineering graduate from Malaviya Regional Engineering College, (Now MNIT) Jaipur (1980-85), and an M.E. (Environmental Engg) from University of Roorkee (Now IIT, Roorkee) (1986-88). He completed a 2 Year Diploma course in German (1982-83) and 1 Year Certificate Course in French (1984).
The professional caliber of Shri Jain has been enriched by global exposure to numerous official stints abroad notably Tokyo, Kyoto & Osaka (Japan) as IR team leader for studying track maintenance practices in Japanese Railways. He also attended the Executive Leadership Programme 'at Bocconi Business School, Milan, Italy in May 2018 besides attending a training program on International Contracts at Tokyo organized by JICA 2010 and also participated as Indian Railway's delegate for the study of station design at Toronto & London in 2006.
A pleasingly soft-spoken & suave with iron-willed determination to achieve results, Shri Ravindra Kumar Jain, at the helm of DFCCIL, will certainly steer the mega project on the path of its enshrined goal.
Posted Date : 12-12-20
Categories : NEW FACES IN PSUS
Tag Cloud: NEW FACES IN PSUS