ministry-of-india-news
Hardeep Puri spoke about 'Global Alliance on Biofuels' with USA and Brazil
 "India is undertaking an ambitious journey of energy transition culminating in India achieving 'Net Zero Carbon' by 2070" said Hardeep Singh Puri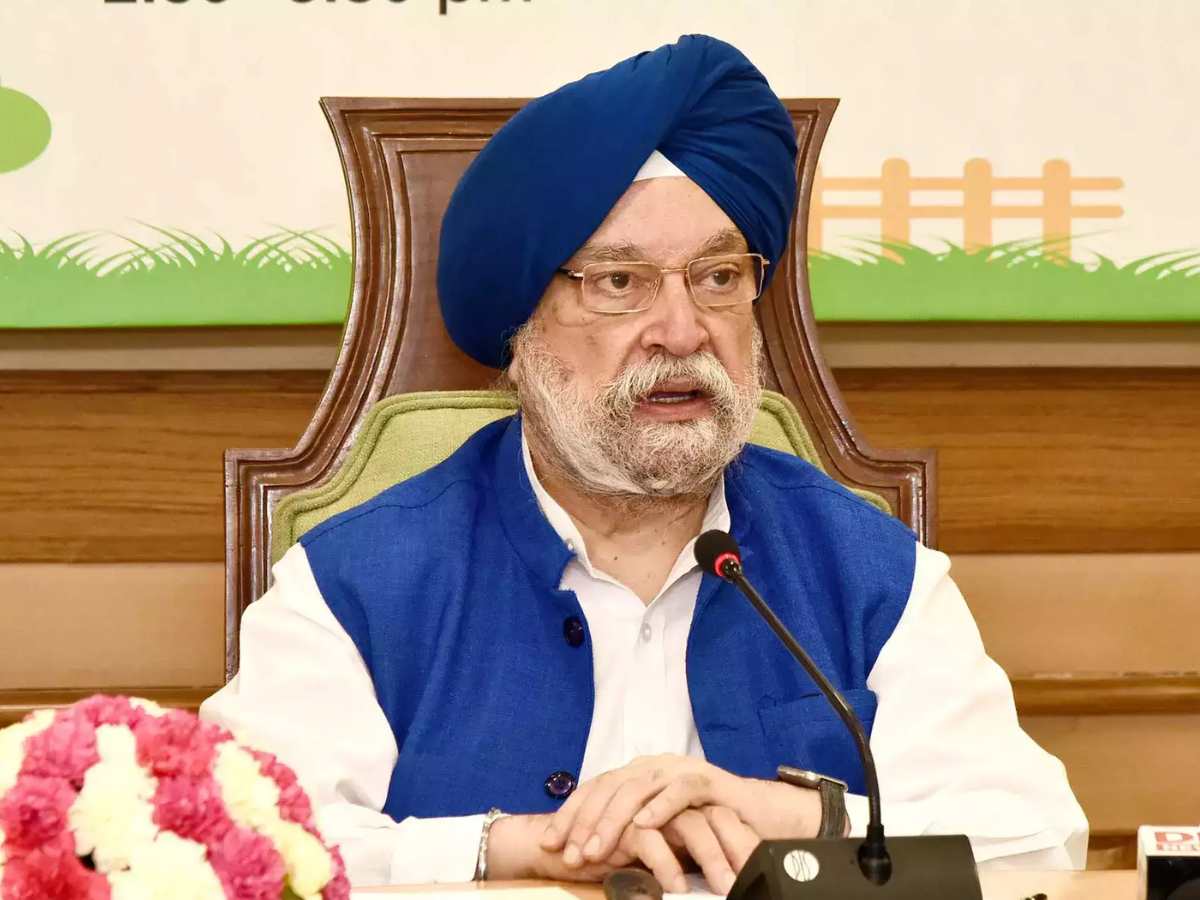 Union Minister for Petroleum and Natural Gas Hardeep Singh Puri
New Delhi: "Indian hydrocarbon industry is gravitating towards a new arena of development. Further, a 7.2% economic growth in FY 2022-23, indicates resilience in India's economy despite multiple global headwinds during the year arising from economic and geo-political uncertainties", said Union Minister of Petroleum & Natural Gas and Housing & Urban Affairs Shri Hardeep Singh Puri, addressing the august gathering of leaders, innovators media personnels' and pioneers in the Oil and Gas Industry, at FIPI's Oil & Gas Awards-2022 ceremony, last evening. Shri Rameswar Teli, Minister of State for Petroleum and Natural Gas & Labour and Employment; Shri Pankaj Jain, Secretary, MoP&NG were also present on the occasion.
Shri Hardeep Puri also spoke about the 'Global Alliance on Biofuels' with the USA and Brazil during India's Presidency of G20. "The energy transition, with its requirement of combining disruption and scale, will only be truly successful when all stakeholders, big and small, collaborate to complement each other's strengths through the creation of symbiotic relationships and strong ecosystems. It is crucial to acknowledge that our energy transition journey is ongoing, and we face challenges that require collective efforts. However, with the determination and resilience of our nation, I am confident that we will continue to make significant progress towards a sustainable and prosperous energy future".
Complimenting FIPI for felicitating the new clean energy initiatives taken up by Indian oil and gas companies, Shri Puri said, "This is my second FIPI award function and I am happy that this year more than 20 award categories including recognition to Phd. thesis from FIPI student chapters in new energy areas is also featuring in the coveted list of awards. The sanctity of the awards is clearly evident from the grandness of the evaluation committee comprising of a former Secretary along with ex-CMDs of Oil PSUs and eminent Scientists", added the Petroleum Minister.
Read Also :
Road & Transport Ministry Maps Entire NHs to Remove Potholes
Talking further about the prestigious awards Shri Puri said that the FIPI Oil and Gas Awards have been created to provide an encouraging and motivating platform for all the participants to strive for excellence in their respective fields. Over the last few years, FIPI Oil & Gas Awards have emerged as the most prestigious awards for the Indian Oil & Gas Industry. The Award categories ranges from Individual appreciation awards for Best Innovator, Best Women Executive, Young Achiever of the Year Award to Outstanding Performance in areas of Exploration and Production, Refining, Marketing, Digitalization & Sustainability, all of which envelope important aspects that lead to the symbiotic growth of the industry.
Addressing the gathering, Shri Puri said, that "India is undertaking an ambitious journey of energy transition culminating in India achieving 'Net Zero Carbon' by 2070. However, for the transition to be enduring and stable, it is imperative that the accessibility and affordability aspects of energy remain intact. While we are only one of the G20 countries on course to achieve its Paris ambitions, we are also aware that in the coming decades, India's energy base load will be met by hydrocarbons. In this context, Government of India has undertaken landmark reforms in the upstream, midstream, and downstream sectors of Hydrocarbon industry in India", said Shri Puri.
Read Also :
Gas Conclave 2023: Assam Govt, Industry Leaders Gather to Discuss Future of Natural Gas
Shri Puri further said that reforms in the energy sector in general and the oil & gas sector in particular demonstrate our commitment to energy security, ease of doing business and energy transition. "With cabinet approving a series of critical gas pricing reforms which would not only lay foundation of a sustainable, affordable, and secure energy future for Indian citizens, but will also incentivize investment in India's E&P sector by ensuring that gas production from new wells of nomination fields will receive 20% higher prices. These reforms will not impact private operators of NELP/ HP-HT fields or new gas production from field development plans submitted after February 2019", added the Petroleum Minister.
Highlighting the importance of gas pricing reform decision, Shri Puri said that in absence of these the gas prices would have been uncompetitive to alternative fuels and hindered the expansion of the gas-based economy. "The prices of gas for priority consumers would have increased by about 10% in the next half-year and continued to rise in the subsequent periods", added Shri Puri.
"The Administered Pricing Mechanism (APM) will be determined monthly at 10% of the average Indian Crude Basket Prices, with a ceiling (US $6.5/MMBTU) and floor (US $4/MMBTU). The ceiling will remain the same for the first two years and then increase by US $0.25/MMBTU every year, to adjust for any cost inflation", said the Petroleum Minister.
Throwing light on the foresightedness of the government, Shri Puri explained the benefits of correct decisions taken at the correct time, "General public has already started reaping the benefits of planned pricing. We have already seen that the average cost of PNG has been reduced by about 10%, and CNG has seen a 6-7% reduction in prices. As a developing nation we are importing 85% of our oil demand and close to 50% of our demand for natural gas, therefore we are acutely aware of the need for a just and stable energy transition, stated Shri Puri.
Laying emphasis on Government's plans on clean and green energy, Shri Puri said that the Government plan has 4 planks: - (i) Diversification of supplies (ii) Increase of alternate energy sources like Biofuels, Ethanol, CBG and Surya Nutan (iii) Increasing E&P footprint (iv) Energy targets through EVs & Hydrogen. "India has one of the largest synchronous grids in the world, capable of handling intermittent renewable energy and we have achieved 'One Nation-One Grid-One Frequency'. "We have enacted Green Hydrogen Policy with a production target of 5 million tonnes by 2030 and related development of renewable energy capacity", added the Petroleum Minister.
Addressing the gathering, Shri Rameshwar Teli said, "In line with our Clean and Green energy vision under the Green Hydrogen Policy of the Government of India, the target of production of same is 5 Million Tonne by 2030. The OMCs are working relentlessly to achieve it".
Mr. Arun Kumar Singh, Chairman, FIPI in his welcome address said that FIPI is all set to play a role, more crucial than ever, to handhold our members to negotiate through the challenges of energy transition.
Read Also :
REC Limited collaborates with SAI and AFI