PSU NEWS
NALCO with CIPET organized seminar on Lifestyle for Environment
As part of the ongoing LiFE campaign, NALCO in association with CIPET, Bhubaneswar organised a seminar on Lifestyle for Environment.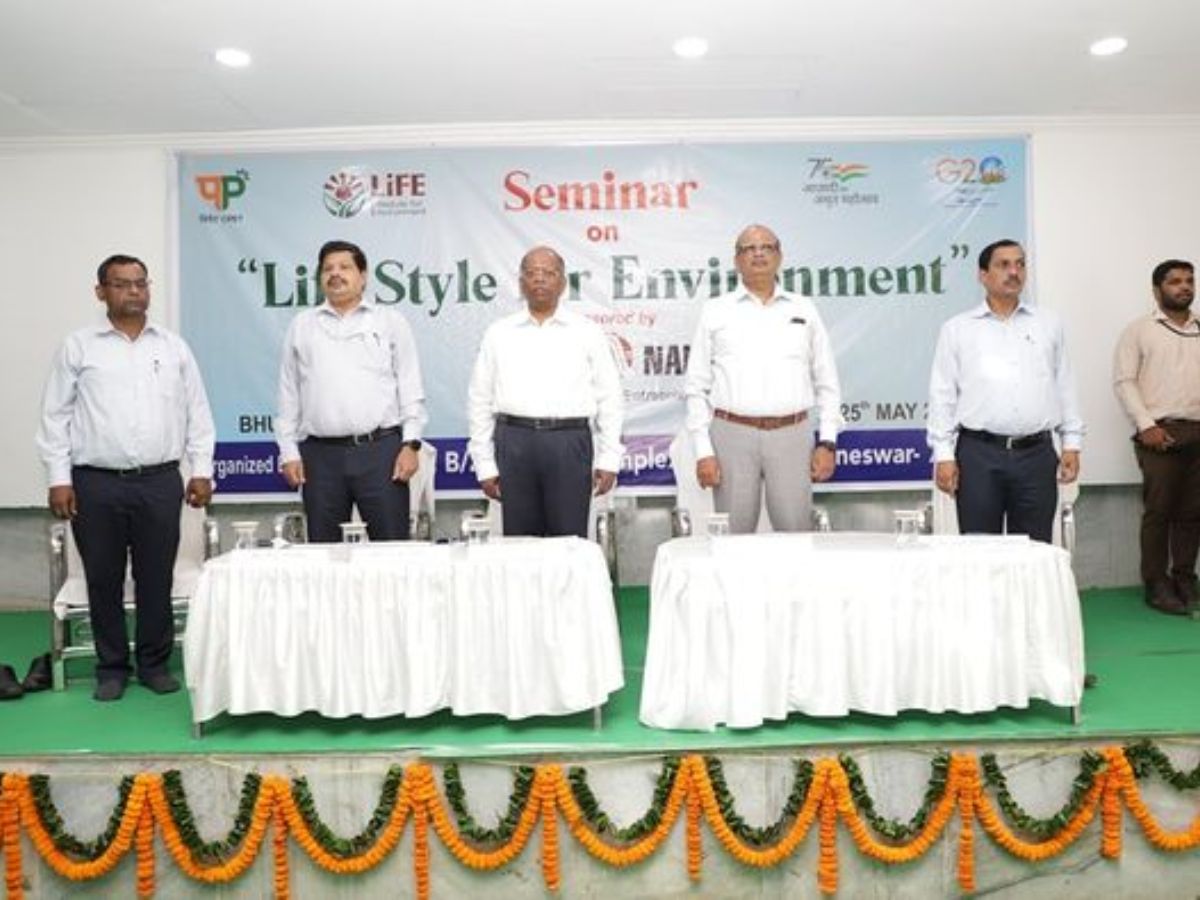 NALCO with CIPET organized seminar on Lifestyle for Environment
NEW DELHI- As part of the ongoing LiFE campaign, NALCO in association with CIPET, Bhubaneswar organised a seminar on Lifestyle for Environment. Shri Sridhar Patra, CMD was the Chief Guest and delivered the keynote address. Senior officials from NALCO, and SPCB, academicians & students participated in large numbers.

Lifestyle for Environment-
On the occasion of the UN Climate Change Conference (UNFCCC COP26), Hon'ble Prime Minister Narendra Modi introduced the mission of "LiFE (Lifestyle for the Environment)" to engage individuals in mitigating the adverse effects of climate change.
This initiative encourages a lifestyle that focuses on mindful and deliberate utilization of resources and aims to change the present 'use and dispose of' consumption habits. The idea behind is to encourage individuals to adopt simple changes in their daily life that can contribute to climate change.
Read Also :
Shri Ashwini Vaishnaw chaired meeting of Consultative Committee for Ministry of Railways
Another part of the LiFE mission is to use the strength of social networks to bring a change in the climate landscape. The mission also plans to create a global army of environment enthusiasts who shall be known as 'Pro-Planet People', committed to adopting and promoting environment-friendly lifestyles.
About NALCO-
National Aluminium Company Limited (NALCO) is a Schedule 'A' Navratna CPSE established on 7th January, 1981 having its registered office at Bhubaneswar. It is one of the largest integrated Bauxite-Alumina-Aluminium- Power Complex in the Country. At present, Government of India holds 51.28% of paid up equity capital. The Company has been operating its captive Panchpatmali Bauxite Mines for the pit head Alumina refinery at Damanjodi, in the District of Koraput in Odisha and Aluminium Smelter & Captive Power Plant at Angul. As a part of green initiative, NALCO has installed 198 MW Wind Power Plants at various locations in India and 800 kWp roof top Solar Power Plants at its premises to join hands for carbon neutrality.
From the days of first commercial operation since 1987 the Company has continuously earned profits for last 35 years. Despite the Global COVID-19 pandemic, NALCO has posted Highest ever sales revenue of Rs.14,181 Crore and Highest ever PAT of Rs. 2,952 Crore in FY 2021-22.
The Company achieved full capacity production of 4.6 lakh tonne, with all 960 POTs in operation in its Aluminium Smelter for the first time since inception in FY 2021-22. The Company has also achieved highest ever Bauxite production of 75.11 lakh tonne in FY 2021-22.
Read Also :
Shri P Upadhyay INAS takes over as Director General of Naval Armament
The Company has a 68.25 lakh TPA Bauxite Mine & 21.00 lakh TPA (normative capacity) Alumina Refinery located at Damanjodi in Koraput district of Odisha, and 4.60 lakh TPA Aluminium Smelter & 1200MW Captive Power Plant located at Angul, Odisha.
The Company has regional sales offices in Delhi, Kolkata, Mumbai, Chennai and 8 operating stockyards at various locations in the Country to facilitate domestic consumers. In addition, NALCO has its own bulk shipment facility for export of products.
With its consistent track record in capacity utilization, technology absorption, quality assurance, export performance and posting profits, NALCO is a bright example of India's industrial capability.
NALCO is the first Public Sector Company in the country to venture into international market in a big way with London Metal Exchange (LME) registration since May, 1989. The Company is listed at Bombay Stock Exchange (BSE) since 1992 and National Stock Exchange (NSE) since 1999. Besides, ISO 9001, ISO 14001, OHSAS 18000, ISO 50001 & SA 8000 certifications, NALCO's Data Centre at Corporate Office and Disaster Recovery Site at Alumina Refinery certified for Information Security Management System and awarded ISO 27001:2013 Certification and Accreditation from International Accreditation Services, USA."
To face the challenges of ever-evolving market and position the Company in a sustainable growth path, a new corporate plan has been developed with well-defined 3 year action plan, 7 year strategy & 15 years vision of being a Premier and Integrated Company in the Aluminium value chain with strategic presence in Mining both domestic & global, Metals and Energy sectors. The Corporate Plan has chalked out a roadmap for multifold growth in revenue and Profit by 2032.
As a responsive Corporate, the Company is harnessing renewable energy aligning to the ambitious programmes of Govt. of India. The Company has already commissioned 198 MW wind power plants and further 25 MW wind power plants are in pipeline.
Read Also :
Mr Vikraman N takes charge as Director (HR) of BEL