PSU NEWS
NBCC holds its 63rd Annual General Meeting; Declared Final Dividend
The Company has declared a final dividend of 54 paisa (54%) per paid-up equity share of Re.1/- each.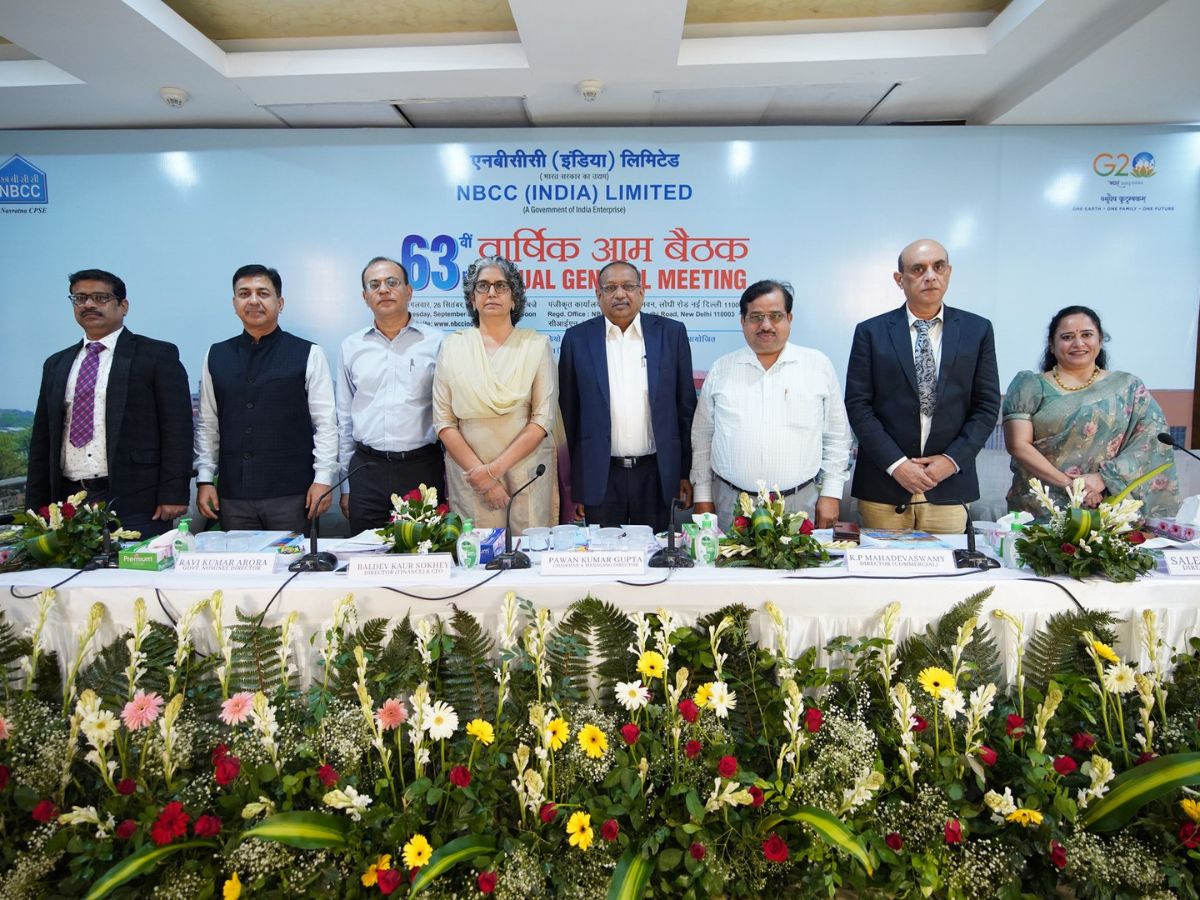 New Delhi: NBCC (India) Ltd the State-owned Navratna Enterprise Company is poised to capitalise on the increased impetus to infrastructure development by the Government. Shri Pawan Kumar Gupta, Chairman & Managing Director, NBCC (India) Limited at the 63rd Annual General Meeting (AGM) held through video conferencing (VC) and other audio visuals means (OAVM) at its registered office i.e, NBCC Bhawan, Lodhi Road, New Delhi highlighted the key achievements of the company during FY 22-23. He also showcased the various opportunities that the company is pursuing in both domestic and international sectors.
During the meeting, other members of NBCC Board, i.e, Smt. B.K. Sokhey, Director (Finance), Shri K.P. Mahadeva Swamy, Director (Commercial), Shri Saleem Ahmed, Director (Projects), Government Nominee Directors Shri Ravi Kumar Arora, Joint Secretary (Land & Estates) and Shri Sanjeet, Joint Secretary & Financial Advisor, Ministry of Housing and Urban Affairs, Government of India, Independent Directors Shri Bhimrao Panda Bhosale, Shri Rajeev Kumar, Shri Asim Misra, and Smt. Deepti Gambhir, Company Secretary, NBCC were also present.
Read Also :
GRSE Hosts First-Ever National-Level QCC Competition for Defence PSUs
The Company has declared a final dividend of 54 paisa (54%) per paid-up equity share of Re.1/- each.
It is pertinent to mention that NBCC has recently completed the prestigious Integrated Exhibition-cum-Convention Centre (IECC) as a modern complex as part of the Pragati Maidan redevelopment project. Hon'ble Prime Minister of India has also applauded the tireless e?orts, involvement and commitment in the construction of the project.
CMD, NBCC informed the shareholders that the company is diversifying into new sectors namely, aviation and Health sector, Defence works, procurement of high-end machines and equipments, smart city mission projects, irrigation projects like renovation/repair of power channel & development of canal networks and industrial estates.
Read Also :
IOCL ranks top Indian Corporate in Bloomberg NEF Global Rankings 2023
For the FY 2022-23, total income of Company was Rs 6920.57 Cr (standalone) and Rs 8961.47 Cr (consolidated) whereas profit after tax was Rs. 231.13 Cr (standalone) and Rs. 278.01 Cr (consolidated).
While concluding, Shri Pawan Kumar Gupta, CMD, NBCC has expressed his heartfelt appreciation and gratitude to the Government of India, specifically the Ministry of Housing and Urban A?airs, Ministry of Finance, Department of Public Enterprises, DIPAM, SEBI, and Ministry of Corporate A?airs (MCA), as well as all other Central and State Government Agencies, C&AG of India, esteemed clients of NBCC, valued customers, dedicated employees, and stakeholders for their support and cooperation which has been instrumental in taking the Company forward on its journey of progress and success.
NBCC continues to strive for excellence in its core business activities and is committed to provide utmost value to its shareholders.
Read Also :
THDC lowers Main Inlet Valve of Second Unit in1000 MW Tehri Pumped Storage Project