NCL organised interactive session on Young Officers As Change Agents For Smart NCL PSU NEWS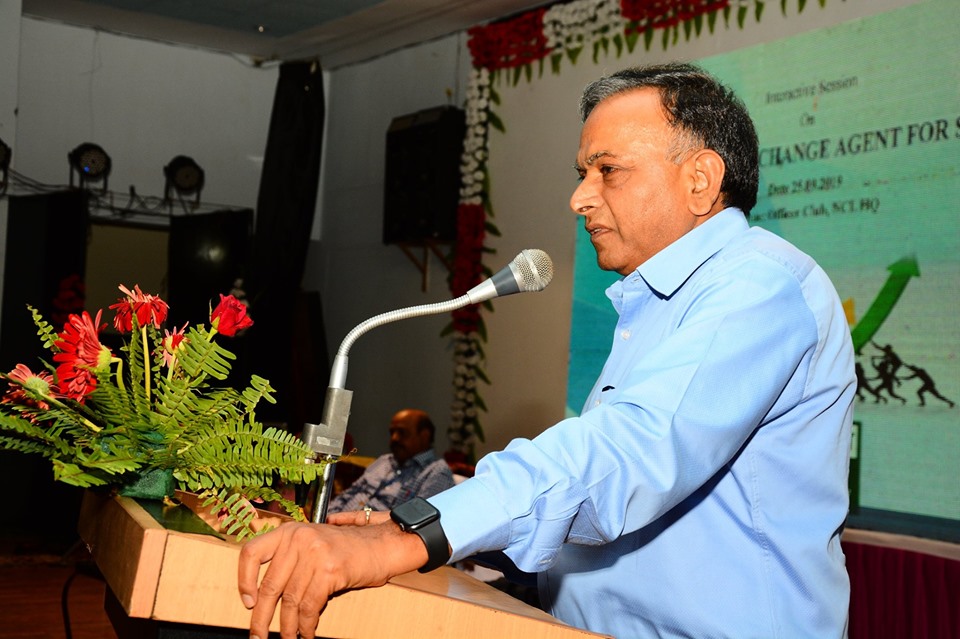 New Delhi: Northern Coalfields Limited organised interactive session on 'Young Officers As Change Agents For Smart NCL' on Wednesday at Officer's Club Singrauli. On this occasion, CMD NCL Shri P.K.Sinha was present as Chief Guest of the occasion while Director (Technical/Operations) NCL Shri Gunadhar Pandey, CVO NCL Shri A.K.Srivastava and Director (Finance & Personnel) NCL Shri Nag Nath Thakur were present as guests of honour.
Addressing the gathering, CMD NCL Shri P.K.Sinha said that young officers are change agents of NCL and will help company scale new heights. Shri Sinha said that coal mining as an industry, by very nature of its working, can't be compared to any other industry. Given the strategic importance of the industry, Shri Sinha asked young officers to gear up for the challenges ahead.
Director (Technical / Operations) NCL Shri Gunadhar Pandey said that it is quite an opportunity for young officers to work in NCL in beginning of their career. He said there is great lesson in the fact that people who reach top notch position in this industry are the ones who have worked hardest in their formative years. He said young officers should be ready to face challenges early on.
CVO NCL Shri A.K. Srivastava called upon young officers to always work with positive attitude and right intentions as this approach helps solve most problems. He said whenever faced with any challenging situation, young officers should be upfront in seeking help.
The Director (Finance & Personnel) NCL Shri Nag Nath Thakur said that the sheer nature of questions posed by young officers are reflection of their belongingness with the company. He said that barring few exceptions, almost all questions and suggestions were directed towards larger well-being of the organisation which assures him of the belief that future of the organisation lies in safe hands.
BUILDING SMART NCL
The interactive session aimed to build smart NCL by exploring ways to improve the present system of working and introduce new developmental models making the company a future ready organisation. Centred on this, various issues were discussed like-- digitization of training, exploring water harvesting capacities, usage of ERP, development of common forum for availability of dated documents, instilling sense of pride in employees by adding glory to work rather than treating the work as mere transactional entity.
Around 300 young officers from across the coal areas and units of NCL participated and gave their suggestions for the creation of Smart NCL. Top management of the company assured to implement the same and gave necessary guidelines to all concerned with a clear directive to work in time-bound manner. The programme also saw cultural renditions by young officers.
Area General Managers, General Managers, HOD's and senior officers of the company also interacted with young officers during the session.
Posted Date : 27-09-19
Categories : PSU NEWS