NCL Provided Abandoned Gorbi Coal Mine to NTPC for Back Filling Fly Ash for Environmental Conservation MOU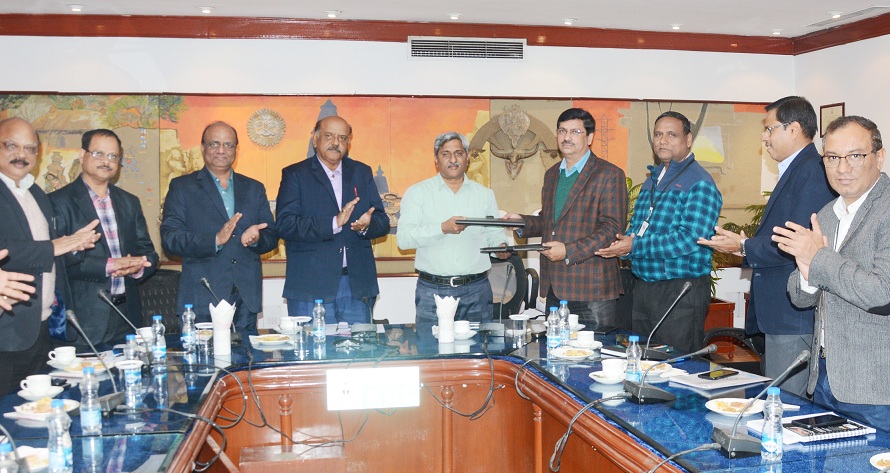 To formalize the efforts, an MoU was signed between NCL and NTPC on 3rd January 2018 at NCL Headquarters in Singrauli. General Manager of Block B coal area Shri R.B. Prasad signed the MoU on behalf of NCL and Shri A.K.Tewary, Executive Director of NTPC (VSTPS) signed the same on behalf of NTPC. The  Director (Technical/Operations) NCL Shri Gunadhar Pandey and Director (Technical/Project & Planning) NCL Shri P. M. Prasad graced the momentous occasion of the exchange of MoU. The General Manager/Technical(Secretary) to CMD NCL Shri P.K.Biswal, General Manager (Environment) Shri Diwakar Srivastava, General Manager (Civil) Shri A.K. Choudhary, AGM NTPC Shri M. K. Mangla, AGM NTPC Shri M. K. Jain  along with Departmental Heads of NCL HQ and senior officers from NCL and NTPC were also present on the occasion.
Notably, backfilling of mine voids through fly ash is one of the effective utilization technique of fly-ash management. After completion of all the mining operation in Gorbi OCP of NCL, the abandoned mine void of volume 14 million cubic metres, is being provided to NTPC for filling of the void up to the ground level. The said void can accommodate nearly 30 million tonnes of fly ash thereby helping in the conversion of the terrain to the useful landscape.
Posted Date : 03-01-19
Categories : MOU