NRDC Licensed Technolgy with a Start-up MOU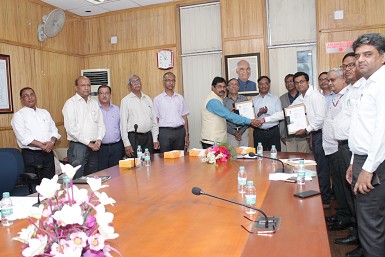 New Delhi/Kolkata: National Research Development Corporation
(NRDC), and
EzeRx Health Tech Pvt. Ltd. Midnapore,
(A start-up company) have entered into License Agreement for commercialization of a diagnostic kit for
'Non-invasive quantitative estimation of haemoglobin
in Blood',
in Neo-natals (Indian Pat. Appl. 466/KOL/2009 ) developed by
S N Bose National Center for Basic Sciences,
Kolkata (A laboratory under DST, Ministry of Science & Technology).
The Agreement was signed by Dr. H Purushotham, CMD, NRDC and Mr. Partha Pratim Das Mahapatra, Founder & CEO of EzeRx Health Tech Private Limited in the gracious presence of Professor Ashutosh Sharma, Secretary DST and DSIR and DG, CSIR and Dr. S K Ray, Director, S N Bose National Centre for Basic Sciences and other senior officials of DST, S N Bose National Center for Basic Sciences, Kolkata, NRDC, TIFAC and it is contributing to Start up India and Make In India Programme of Government of India. This is the first technology of the Centre that is being licensed by NRDC and is being included in the National Anaemia Mission of Govt. of India.
According to this agreement, the device would monitor haemoglobin (for Anaemia) levels simultaneously without using any blood sample and/or chemical reagent at Point-of-Care and the report could be communicated to the medical expert through SMS or email. This technology basically adopts the strategy where spectroscopic signal essentially comes from the vascular bed of bulbar conjunctiva.
Posted Date : 12-09-18
Categories : MOU
Tag Cloud: MOU