SCOPE NEWS
Secretary DST exhorts corporates in SCOPE webinar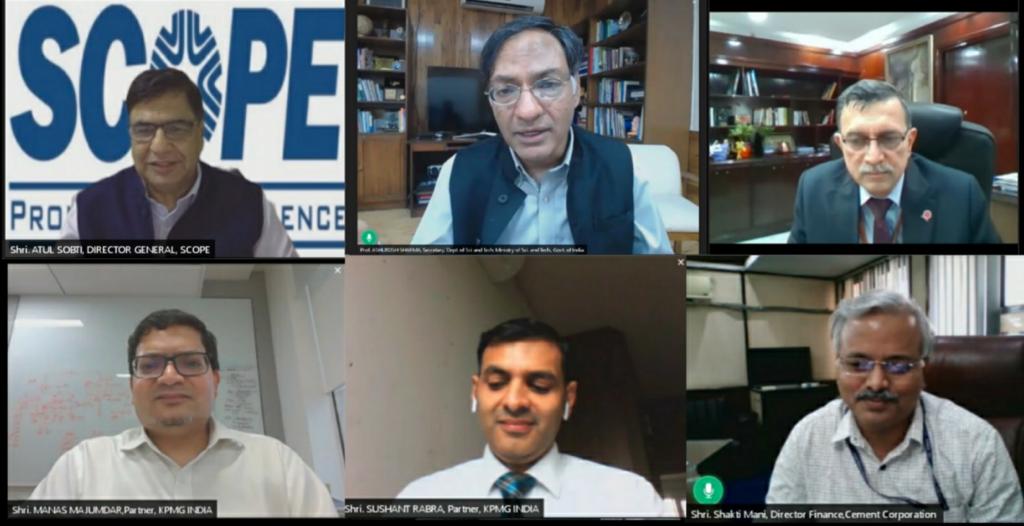 New Delhi: As COVID acts as a key catalyst for acceleration of digital technologies, organisations need to leverage these disruptions as future will be increasingly digital. To offer an insight in the same, Standing Conference of Public Enterprises (SCOPE) organised a webinar on 'Digital Transformation in COVID 19.' The webinar was addressed by Prof. Ashutosh Sharma,Secretary, Department of Science & Technology (DST), Mr. S.M. Vaidya, Chairman, IOCL, Mr. Atul Sobti, DG, SCOPE, Mr. S. Sakthimani, Director (Finance), CCI, Mr. Sushant Rabra and Mr. Manas Majumdar, both partners in KPMG India. The Webinar was attended by over 2300 participants including senior official from Public Sector Enterprises (PSEs) through SCOPE's various platforms. 
Prof. Ashutosh Sharma in his address stated that the present era is of Industry 4.0 based on control of data, knowledge and wisdom and hence whoever is able to generate, control and build on data/ information shall succeed. He stated that it is imperative for organisations to assess their digital maturity and also where they want to reach so as to make most of the available opportunity to leverage digital tools. He also said that PSEs are strong pillars of the Indian economy and hence need to take advantage of latest technology, upskill and integrate business with emerging technologies so as to enlarge scope of organisations. Secretary, DST made a strong urge to the corporate sector to make optimal use of this clear and present opportunity to emerge stronger and skilled digitally.
Mr. Vaidya appreciated SCOPE for organising the webinar on digital transformation. While emphasizing on the need of digital transformation, he also briefed how IOCL leveraged technology for both business and employees.
Mr. Atul Sobti DG, SCOPE speaking about the digital journey stated that digital technology has broadened the horizon of business in the times of crisis. DG, SCOPE said that digital shall be the key even in post COVID times and hence the same needs to be leveraged by PSEs in order to be globally competitive. He highlighted three focus areas for PSEs in order to make most of the available opportunity – skilling, digital infrastructure and digitally enabled systems.
KPMG team presented on Digital integration in organisations during COVID and how it has brought new opportunities and innovative technologies at the threshold of all organisations. They also highlighted how digital can be utilised for value realisation for organisations.
While giving closing remarks, Mr. Sakthimani reiterated the fact that digital transformation is the requirement of the hour and hence all corporates should join hands to maximise this opportunity.
Read Also :
THDCIL sign MoU for Water Sports High Performance Academy at Tehri