Corp
Servotech Power Systems Ltd. initiates the manufacturing of high-tech EV chargers
Being a leader in the integration of cutting-edge technology and modern-age innovations for the development of a series of smart solar solutions.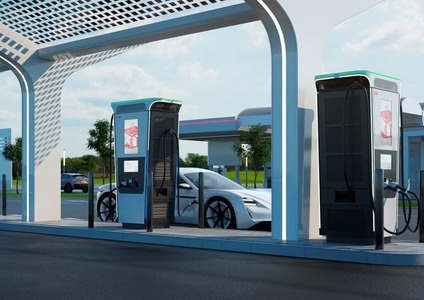 Representational Image/Reuters
NEW DELHI - In a bid to establish state-of-the-art technological EV charging infrastructure and bolster the nation's progression towards the electric revolution, Servotech Power Systems Ltd. (NSE: SERVOTECH), a leading entity engaged in the manufacturing of high-end solar products, medical devices and LED lighting solutions initiates the manufacturing of smart tech-driven innovative EV chargers for installation at various EV charging stations across the country.
The entity while announcing its strategic foray into the EV market informed that the decision of embarking on this new journey and playing a pivotal role in aiding the creation of EV charging infrastructure is in line with its vision of developing solutions in accordance with the Government's Make In India initiative and steering the nation towards a greener and sustainable future.
Having emerged as a credible player within the solar power market and witnessing dramatic growth over the years, Servotech aims to provide its cutting-edge equipment to facilitate the creation of EV charging hubs pan India.
Holding high levels talks with key officials from several major PSUs and nodal authorities on a regular basis, the company is currently devising new strategies to focus on the crucial aspects and issues that are required to be addressed and execute its plan in a phased manner. To act as an end-to-end solutions provider for the installation of the EV chargers, Servotech is presently gearing up its tech apparatus, aggressively.
Commenting on the recent plan of action for commencing the operations and procedures, Raman Bhatia, Founder & Managing Director, Servotech Power Systems Ltd. stated, "We at Servotech are certain about our potential and take immense pride in accepting a challenge as an opportunity that could benefit the entire society at large.
Our new initiative of aiding the establishment of EV charging technological infrastructure across states reflects our serious deliberations for paving a path towards new avenues and possibilities for all.
In view of the present challenging scenario when fuel prices are hitting new highs, it is highly imperative to come up with a solution that could accelerate our pace in the race to become truly a self-reliant nation by adopting new technologies as India continues to see the sharpest spike in sales of electric vehicles."
Adding to it further, Raman Bhatia said, "The use of Electric Vehicles has become en-vogue amongst the younger generation and by encouraging and empowering our youth primarily to switch to new solutions, we could turn the dream of a better world into a reality.
The EVs being launched by several auto brands nowadays have become much smarter and are being opted especially by the young as it offers an amazing absolute freedom of mobility or commute and is nothing short of a style statement for them.
This aspect in itself is a sign of the new generation embracing the change that ultimately prompts us to do our bit with the intent of strengthening and complementing our transition into a clean new era."
This recent decision by Servotech could be perceived as its uncompromising and unwavering commitment to care for the environment and promote the use of environment-friendly solutions. With tremendous expertise, capability and a proven track record of successfully executing several solar projects on a massive scale while facing critical odds, complications and challenges, Servotech yet again is determined to accomplish this goal by collaborating with reputed bodies.
Informing further about the entity's recent decision, Sarika Bhatia, Whole-Time Director, Servotech Power Systems Ltd. conveyed, "We are constantly working on the blueprint of our soon-to-be-launched project and are in talks with the industry leaders and decision-makers for the exchange of meaningful insights and perspectives in order to accomplish our goal of creating a highly-sophisticated network of charging hubs nationwide, successfully."
Being a leader in the integration of cutting-edge technology and modern-age innovations for the development of a series of smart solar solutions, energy-efficient lighting solutions and medical-grade devices, Servotech with a legacy of over two decades remains to be India's most reliable and entrusted brand.
Read Also :
IOC bids farewell to H.S. Rajpal, Executive Director (Law)