PSU NEWS
Valedictory Program of week-long public exhibition of MIDHANI products
Director (Finance) Shri N Gowri Sankara Rao gave the Vote of Thanks. Senior Officials of MIDHANI were also present during the program.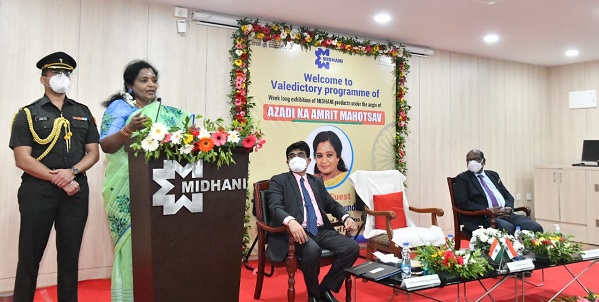 New Delhi: The Valedictory program of weeklong public exhibition of MIDHANI products was organized on 19th December 2021 at MIDHANI. Hon'ble Governor of Telangana & Hon'ble Lt. Governor of Puducherry, Her Excellency, Dr. Tamilisai Soundararajan presided over the program as 'Chief Guest'.
While addressing MIDHANI, the Hon'ble Governor congratulated the company's varied endeavours in the 'Atmanirbhar Bharat' program and she praised the indigenization efforts put in by MIDHANI. Hon'ble Governor appreciated the critical role played by MIDHANI in ensuring availability of key materials for space, defence and energy sectors to avoid dependence on foreign supplies. Her Excellency, Dr. Tamilisai Soundararajan heaped praises on MIDHANI for supplying bio-medical implants to the needy under their Corporate Social Responsibility initiatives and this specifically enthralled her as she is a doctor by profession.
Chairman & Managing Director Dr. S K Jha thanked the Hon'ble Governor of Telangana for accepting the invitation and taking time out of her busy schedule to visit MIDHANI. He said that Aatma Nirbharta" is the only way forward. Atmanirbhar Bharat which translates to 'self-reliant India' or 'self-sufficient India', is the vision of Hon'ble Prime Minister of India Shri Narendra Modi ji of making India "a bigger and more important part of the global economy", pursuing policies that are efficient, competitive and resilient, and being self-sustaining and self-generating. He further added that MIDHANI has supplied special metals and alloys to various national programs of space, Defence and Energy sectors. Few examples include GSLV, PSLV, Chandrayaan, Mangalyaan, Gaganyaan, Light Combat Aircraft, Kaveri Engine, Advance Ultra Super Critical Programme etc.
Director (Finance) Shri N Gowri Sankara Rao gave the Vote of Thanks. Senior Officials of MIDHANI were also present during the program.
MIDHANI organized the public exhibition at two locations, one at Hyderabad and another at Rohtak, Haryana. MIDHANI received an overwhelming response and the numbers speak for itself. Around 15,000+ footfall was recorded during the week long exhibition in Hyderabad and around 5000+ people visited the exhibition at Rohtak.
At the Hyderabad Unit, Guest Lectures were organized on Metallurgical topics by eminent speakers from reputed organizations and metallurgy background students from various engineering colleges were invited to attend it. A special session for women employees was also organized during the week. General public, local engineering / polytechnic/ degree colleges and school students were sent invitations for walk-in visits. More than 50 colleges and more than 50 schools have visited the exhibition during the past 7 days.
This was one of a kind opportunity for the people of Hyderabad to see marquee defence products displayed at a single location. This was made possible by the initiative taken by Department of Defence Production (DDP), Ministry of Defence (MoD), Government of India, by dedicating a week i.e. 13th-19th Dec for showcasing defence products at different locations across the country by various defence establishments. In this process, exhibitons were held at around 75 locations and 7 curated museums were created and these were virtually inaugurated by Hon'ble Raksha Mantri, Govt. of India, Shri Rajnath Singh Ji in the presence of senior officials of DDP, MoD.