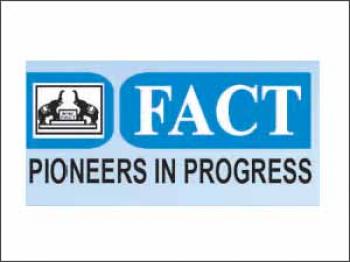 Fertilisers and Chemicals Travancore Limited
The Fertilisers and Chemicals Travancore Limited or FACT is a fertiliser and chemical manufacturing company headquartered in Kochi, Kerala, India. The company was incorporated in 1943, by Maharajah Sree Chithira Thirunal Balarama Varma.
The 2nd stage of expansion of FACT was completed in 1962. The 3rd stage of expansion of FACT was completed in 1965 with setting up of a new Ammonium Sulphate Plant.

FACT Engineering Works was established on 13th April 1966 as a unit to fabricate and install equipments for fertiliser plants. Over the years FEW developed capabilities in the fabrication of pressure vessels and heat exchangers. FEW has also undertaken laying of cross country piping and fabrication and installation of large penstocks of hydel projects.

As a diversification plans from the traditional field of Fertilisers and Chemicals, 50000 TPA Caprolactam Plant at Udyogamandal was commissioned in 1990.

FACT set up 900 TPD Ammonia Plant at Udyogamandal at a cost of 638 Crores following an order of the High Court of Kerala in February 1994 on a Public Interest Litigation, to decommission the existing imported Ammonia storage and handling facility at Willington Island (Cochin Port). The Ammonia plant was commissioned in 1998.

The company's main business is manufacture and marketing of (a) Fertilisers (b) Caprolactam and Engineering Consultancy and Fabrication of Equipment.