SCOPE & DSCI Organised Workshop on Cyber Security Challenges SCOPE NEWS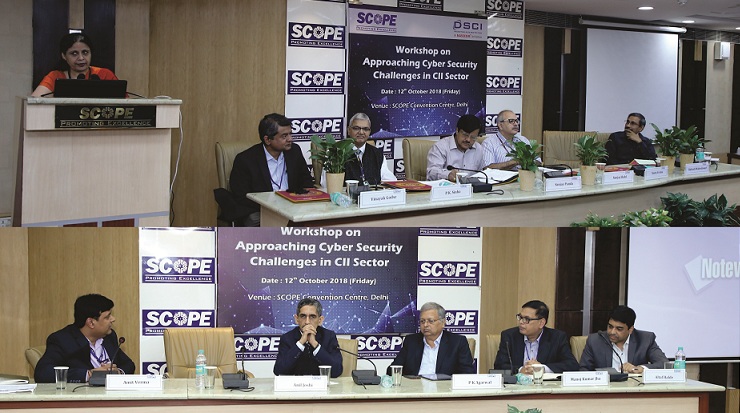 New Delhi: SCOPE, in association with Data Security Council of India (DSCI) organised a Workshop on 'Approaching Cyber Security Challenges in Critical Information Infrastructure (CII) Sector' on 12th October 2018 at New Delhi. Inaugurating the workshop, Dr. Sanjay K. Panda, IAS said that PSEs was set up as engineer of growth and even today, they are playing an important role in socio-economic development.
The workshop was addressed by many eminent speakers, notably, Dr. Sanjay K. Panda, former Chief Secretary, Govt. of Tripura & former Secretary to Govt. of India inaugurated the workshop in the presence of  Ms. Neeta Verma, DG, NIC, Dr. Sanjay Bahl, DG, CERT-IN, Ministry of Electronics & Information Technology (MEITY), Mr. Rakesh Maheshwari, Scientist G & Group Coordinator, MEITY , GOI, Mr. Vinayak Godse, Vice President, DSCI and Mr. P.K. Sinha of SCOPE, besides experts from PSEs and Industries.
Mr. Rakesh Maheshwari, Group Coordinator, MEITYi has address said that the role of people process technology is paramount. He opined that security has to be seen as whole life cycle and not at a certain point. Talking about the rapid growth of mobile phones and access to the internet, Mr. Maheshwari said that more and more people have access to internet resulting in growing usage of cloud, social media which from personal experience makes work easier but from security purpose creates more complexities.  
DG, NIC, Ms. Neeta Verma in her keynote address discussed in detail about the changing threat landscape, the complexity of attacks viz. state-sponsored, organized criminal activities, personal gain etc., DG NIC added that Digital India Program has resulted in Data.
DG, CERT-IN, MEITY,  Dr. Sanjay BahlBahl in his keynote address emphasized the need to be aware of cyber threats to know who is doing the scanning and when they are doing it what are they looking for. Mr. Bahl pointed out that there is lack of awareness about cybersecurity threats amongst users, lack of proper response planeand lack of skill-sets. He also added that unclear 
Roles and responsibilities in time of the attack, lack of forensic readiness, the organization not reporting incidents have made the matter even more Complex. He posted seven questions before the participants to ensure cybersecurity in their respective organizations-
Do you have people to manage your industrial control systems?
Do you know what you have installed in the field?
Do you have true cyber security control system in place?
Can you trust the output from your devices?
Do you have right documentation for your system?
Do you fully understand the network access issue?
Are your incident response and capabilities in place?
Some of the snaps of this Workshop could be seen from the link below:
Posted Date : 20-10-18
Categories : SCOPE NEWS