NCL Fighting COVID19 PSU NEWS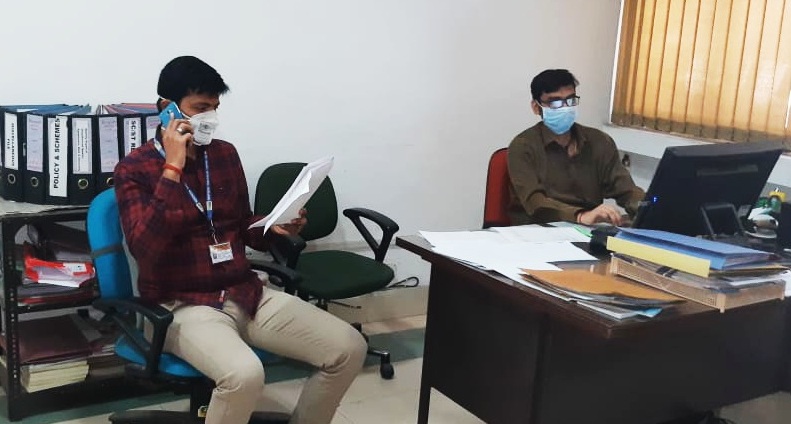 Singrauli: Northern Coalfields Limited (NCL) is Singrauli (The energy capital of India) based Miniratna Company of Government of India and Subsidiary of Coal India Limited. It contributes to 15% of national coal production from its 10 highly mechanized open cast coal mines. The company utilizes modern infrastructure like Rapid Loading System for loading and Merry-Go-Round and Belt Pipe conveyor systems for coal transportation and dispatch. 
The company's coal helps in about 10% power generation of the nation with mostly from pithead plants located in Singrauli region completely relying on NCL for daily need of solid black fuel. The entire world including our country is going through a phase of a medical emergency due to the COVID19 pandemic. Our nation is in the phase of lockdown and people are staying in.
In the thrust of energy security of nation, our miners are working round the clock to meet coal demand of the nation. Our company has come up with dual-natured initiatives amid pandemic for the employees as well as for the society in and around our operational region.
Awareness campaigns about COVID-19: - NCL runs several campaigns across its 10 opencast coal projects and 3 units to communicate the causes, the practice of maintaining social distancing, using sanitizers, washing hands through the display of posters and banners at workplace and colony premises.  NCL has utilized its social media and digital platforms to make people cautious about the disease.
Medical Preparedness: - NCL has set up a 200-bed quarantine facility for admitting suspected cases of COVID-19. The arrangement has been made at various places of NCL. 
All the doctors, as well as paramedical staffs of NCL, are ready to fight COVID-19, they are provided with sufficient Personal Protective Equipment for their safety. Special trained Medical team Officer has been appointed to look after the cases relating to the disease. This team is also in regular touch with the District Administration of Singrauli. At NCL we have a team of 93 Doctors along with 291 paramedic's staff.  In order to cope up with the emergency situation due to pandemic, we have sufficient numbers of oxygen cylinders, 3 ventilators, and 12 ventilators are under procurement. 
Sanitization at Workplace: - Round the clock sanitization, disinfection, and fumigation are being done in all three working shifts at various places like office premises, canteens, rest shelters, washrooms, machinery, shift buses, etc. Necessary precautions are being taken in canteens for providing clean, hygienic, and disinfected services to the workers. Sanitizers are being provided at the entry/exit gates of office premises in order to avoid the transmission of disease. The availability of sufficient hand wash has been ensured at suitable places like washrooms, canteens, and every washbasin for frequent hand wash while working. Sanitization of Residential Complexes:--Sanitization of all residential areas is being done by NCL with the help of 12000 Liter high capacity mist spray guns and manual modes in order to safeguard people.
Social Distancing: - We have taken up various measures in order to maintain social distancing norms in the workplace as well as public places. Public gatherings and celebrations have been discontinued.  All the meetings are being conducted through video conferencing and through other digital modes. All coal mines are equipped with wireless radio networks communicating with walkie talkies. 
The biometric attendance of employees has been discontinued. Employees of NCL headquarters are also practicing to "Work from Home" and are in contact over the phone and other electronic equipment. Also, the Roster system, Staggered, and Flexi working is being followed.
Thermal Scanning: - Thermal Scanning is being done at workplaces to ensure the fitness of the employees.
Surveillance:-NCL has constituted a high-level "Quick Response Team" for reviewing the situation and mobilizing the actions to be taken in any circumstances. The team is also monitoring the arrival of employees and their family members from other states/areas and ensuring such people are quarantined after arrival. A "Control Room" has been set-up for taking regular updates relating to COVID-19. Team of employees has been deployed at HQ as well as in all Areas/Units of NCL, who are working round the clock (24*7) in three shifts for maintaining records relating to attendance of employees as well as data of suspected cases and quarantined people.
An "Apex Team" is constituted consisting of higher authorities for monitoring of all the activities undertaken for prevention from the proliferation of COVID-19.Our 15,000 employees contributed their one-day salary to PM CARES fund. Our several other employees also made their individual contributions to PM Cares Fund after getting inspired by CMD's (NCL) appeal. 
We have invited Ideas to beat COVID-19 and encouraging employees to come up with innovative suggestions to tackle and prevent the spread of COVID-19 through various e forums.
As a responsible corporate citizen, NCL is also taking hosts of initiatives for the residents of its Surrounding Villages.
NCL has donated ? 20 Crores to Madhya Pradesh Chief Minister Relief Fund to fight against COVID-19. This financial aid will help the Government of Madhya Pradesh to provide relief in financial, medical and other necessary assistance to fight coronavirus and lockdown affected people.
NCL is supporting the local community with various protective like Masks, Sanitizers, Hand Wash, Hand Gloves. We have distributed more than 56 Thousand masks/face covers, more than 5 thousand liters of sanitizers to nearby villagers to date. Relentlessly each day NCL is making huge efforts to prevent the spread of COVID19 in coordination with the local district administration. NCL has extended its help to people of nearby villages and has so far allocated a fund of more than 4 Crore under its CSR initiatives for prevention from COVID-19.
With the help of district administration, the needy ones have been provided more than 27 thousands numbers of food packets with daily ration items like rice, flour, and lentils, salt, potatoes, oil, spices, etc. Door to door delivery has been ensured to needy ones in blocks identified by district administration.NCL has encouraged and provided livelihood to women trained under the "Kaushal Vikas Unnayan Yojana" by purchasing masks/ face covers for distribution to needy ones. 
Amid COVID and lockdown, the company continued coal production in its mines with due safety and norms and broke its own record of highest ever production in a day and in a year. NCL achieved its annual coal production and dispatch targets way ahead of schedule. In FY 2019-20 we produced 108.05 MT of coal with a growth rate of 6.45% and dispatched 107.42 MT of Coal with a growth rate of 5.45%.
 Till 25th of this month NCL has produced 16.08 MT of coal and dispatched 13.64 MT of coal.
Posted Date : 29-05-20
Categories : PSU NEWS