PM Dedicates Kollam Bypass on NH-66 to the nation during his visit to Kerala prime-minister-of-india-news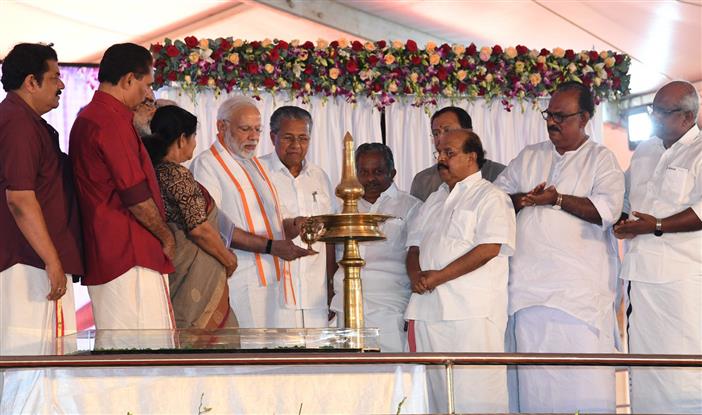 New Delhi: The Prime Minister, Shri Narendra Modi visited Kollam in Kerala on 15th January 2019. He dedicated the 13 km, 2-lane Kollam bypass on NH-66 to the nation. The Governor of Kerala Shri Justice P. Sathasivam, CM of Kerala Shri PinarayiVijayan, Union Minister of Tourism Shri K J Alphons along with other dignitaries were present on this occasion.
Kollam Bypass will reduce travel time between Alappuzha and Thiruvananthapuram and decongest the traffic in Kollam town.
Talking about the projects in Kerala, the PM said that about 500 km of national highway has been added in Kerala since May 2014. He added that under Bharatmala, a detailed project report for the Mumbai-Kanyakumari corridor is under preparation.
Speaking on the importance of Tourism Sector, PM highlighted the remarkable growth in this sector. India posted a growth of 14% over 2016 in the tourism sector while the world grew at an average of 7%. He added that India now stands at 3rd place in Power Ranking in the 2018 report of the World Travel & Tourism Council. Foreign tourist arrivals in India increased by 42% from around 70 lakh in 2013 to about 1 crore in 2017. While the Foreign exchange earned by India due to tourism witnessed a jump of 50%, up from $ 18 billion in 2013 to $ 27 billion in 2017. He described the introduction of the e-Visa as a game changer for Indian Tourism which is now available to nationals of 166 countries.
Posted Date : 16-01-19
Categories : prime-minister-of-india-news
Tag Cloud: prime-minister-of-india-news