Achievement: DFCCIL records 10 billion GTKM freight movement in a single day PSU NEWS
According to DFCCIL, this milestone will contribute towards multi-modal connectivity and rationalizing logistics cost as envisioned by PM Gati Shakti National Master Plan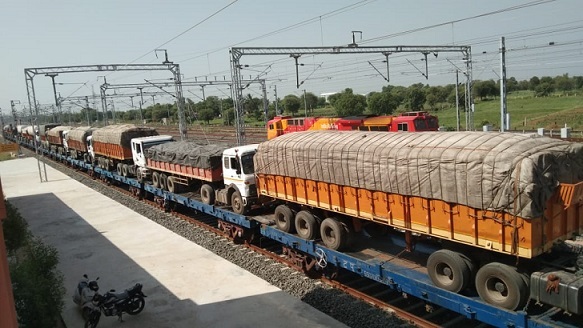 The Trucks on Train (ToT) service departing from DFC New Palanpur station towards DFC New Rewari station today
New Delhi: Dedicated Freight Corridor Corporation of India (DFCCIL) has achieved a record in freight transportation by carrying 10 billion GTKM (Gross Ton Kilometre) of goods since its advent in freight operation through its newly opened rail sections in Eastern Corridor between New Bhaupur to New Khurja of 351 KM situated in the most busy and important Indian Railway route between Delhi to Howrah and in Western Corridor between New Palanpur to Rewari section of 637 KM in New Delhi – Mumbai rail route of Indian Railways. Over 11,600 freight trains have plied on both the eastern and western dedicated freight corridors since Dec 2020.
DFCCIL will galvanise freight movement and spur all round development in the logistic sector by helping decongest the existing Indian Railway network to run passenger trains on relatively less crowded railway track and shifting goods trains to run on high-speed and state of the art Dedicated Rail Corridors. DFC will aid in movement of raw materials like coal, iron ore from the eastern part of the country etc. and finished goods from the ports to the hinterland.
The launch of Gati-Shakti – National Master Plan to connect country's economic zones on 13.10.2021 by Hon'ble Prime Minister Shri Narendra Modi has invigorated new energy into DFCCIL to aggressively execute the remaining construction to contribute towards building a economically stronger and resilient India.
Posted Date : 14-10-21
Categories : PSU NEWS
Tag Cloud: PSU NEWS