CSR
ECIL Organized Distribution Camp under CSR Initiatives
ECIL has organized Distribution Camp of Assistive Devices for the Persons with Disabilities and Handed over Medical Equipments to 14 PHC's under CSR of FY 2022-23 at Jayashankar Bhupalpally District, Telangana on 15.03.2023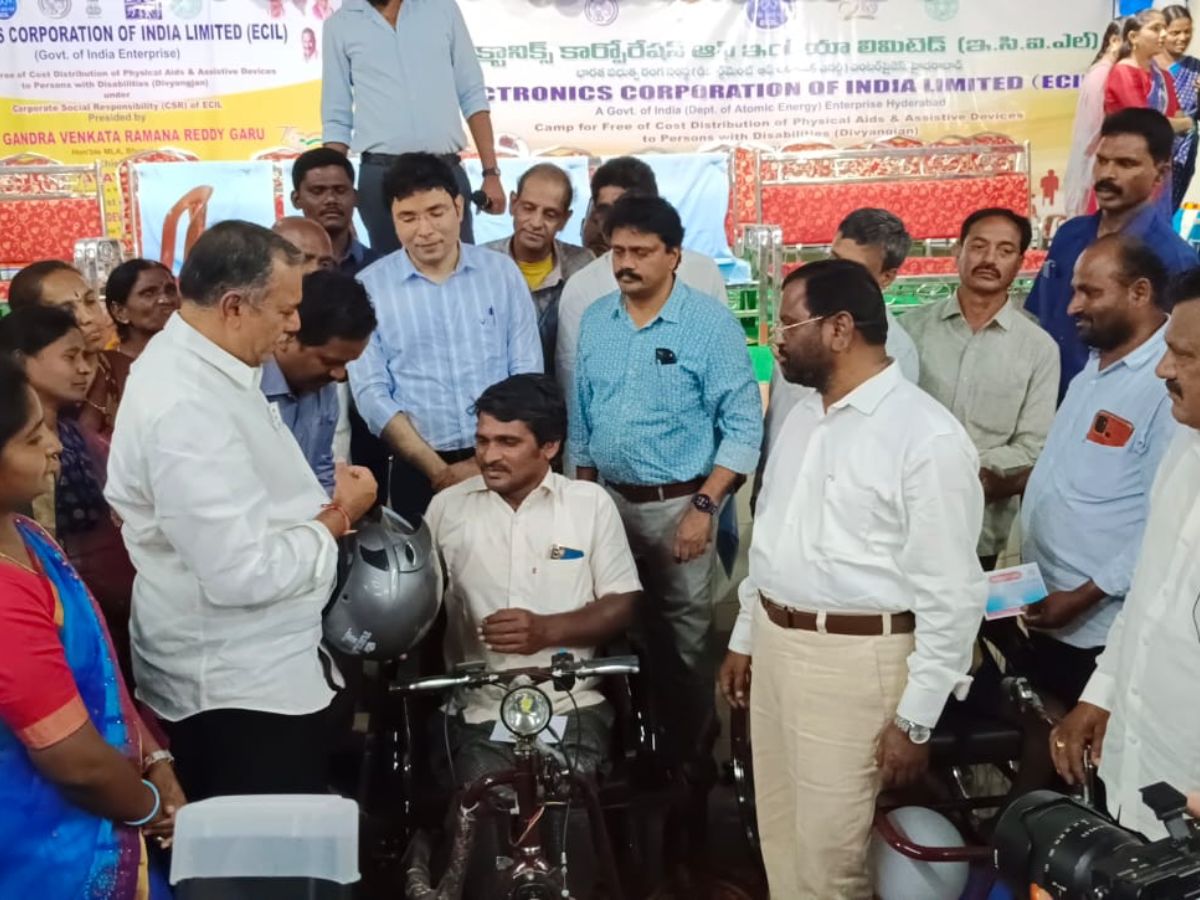 ECIL Organized Distribution Camp under CSR Initiatives
a) Distribution of Physical Aids and Assistive Devices to 328 no. of Persons with Disabilities valuing 33.06 Lakhs.
b) Handing over of Medical Equipments to 14 Primary Health Center's valuing Rs. 23.91 Lakhs.
NEW DELHI- ECIL has organized Distribution Camp of Assistive Devices for the Persons with Disabilities and Handed over Medical Equipments to 14 PHC's under CSR of FY 2022-23 at Jayashankar Bhupalpally District, Telangana on 15.03.2023 at Singareni Function Hall in presence of MLA Shri Gandra Venkataramana Reddy, District Collector, Shri Bhavesh Mishra, IAS and Other District Officials.
ECIL team has informed that ALIMCO (a Public Sector undertaking) was entrusted with the job of identification and manufacturing of assistive devices to the needy people residing in the District who are predominantly belongs to lower economic strata of society. Beneficiaries were identified through fair & transparent process.
Accordingly, Assessment Camps are conducted at 3 Locations in the district at Mahadevpur, Chityal and Bhupalpally through Medical Experts of ALIMCO on 06th to 08th September 2022. Around 328 beneficiaries were identified for providing assistive devices such as Artificial Limbs, Prosthesis & Orthosis, Tricycles, Wheel Chairs, Motorized Tricycles, Crutches, BTE Hearing Aids, Braille Kits, MSIED Kits, Smart Cane, walking stick, ADL kits for leprosy cured, CP Chair, Lumbo Sacral Belt etc. On this occasion, all the beneficiaries are called for the Distribution Camp to collect the respective assistive device. It is also informed that ALIMCO shall repair the equipment/ devices during the warranty period for free of cost. Accordingly for seamless co-ordination each beneficiary will be issued with details of equipment with warranty and toll free number.
In addition to the above, ECIL has handed over medical equipments valuing Rs. 23.91 Lakhs for equipping 14 PHC's in the District to provide better treatment to the pregnant women and for conducting normal deliveries. Equipments such as fetal Doppler (14 No.), nebulizer (14 No.), autoclaves (14 No.), dressing drums (14 No.), labour tables (13 No.) with medical pillows (13 No.), rubber sheets (26 Meters), footsteps (13 No.), intubation kits for adults & pediatric (14+14 No.), fowler bed with mattress (56 No.), dressing trolley (14 No.) and baby weighing scales (13 No.) is handed over.
Honorable MLA Shri Gandra Venkataramana Reddy and District Collector, Shri Bhavesh Mishra, IAS, appreciated the efforts of ECIL and thanked for taking up this activity at Jayashankar Bhupalpally District. He opined that more such initiatives are required for the District to improve the standards of living in the communities by developing the basic infrastructure.
ECIL representatives: Dr. P Venu Babu (Chief Medical Officer), Shri Bhavani Sankar V (DGM-HR) and Shri Shakeruddin MK (Joint Secretary, ECIL Staff and Worker's Union) have participated and made this event successful.
Read Also :
Road & Transport Ministry Maps Entire NHs to Remove Potholes