Hindi Diwas Celebrates In Bharat Cooking Coal Limited PSU NEWS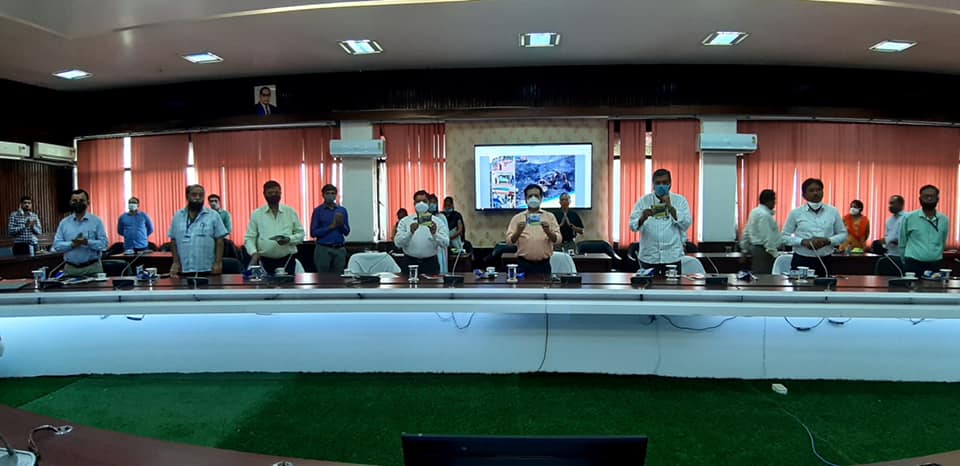 New Delhi: Hindi Diwas Celebration was organised at Tala-3 Auditorium Coal Bhawan on 14th September, 2020 at Bharat Cooking Coal Limited. The ceremony was chaired by Mr. Rakesh Kumar, Director (Technical / Operations). He gave a presidential statement that Hindi is a very simple and interesting language and its literature is very rich. Hindi's vast and prosperous literature has enhanced its popularity. Hindi in India is like a thread of pearl beads which connects all the pearls of language. Appreciating the Office Assistant published on the occasion, he said this is a very useful booklet, use it for all officers and staff office work. To create a positive attitude towards Hindi, we must sign our signature in Hindi. Work daily in Hindi, not only one day On the same occasion, Director (Technical / Project & Planning) Mr. Chanchal Goswami said that all competitions were organized online this year.
This is very important in this pandemic period. He congratulated all the participants on this occasion that you should do more and more in Hindi every day. He congratulated the Department of Official Language and said that the fields of Official Language are being done very well in the company. Ensure to act in accordance with the official language policy of all government of India.
Shri P V K R Mallikarjun Rao, Director (Personnel), calling on all officers and employees to do maximum work in Hindi, said that we should try to do maximum work in Hindi throughout the year. To achieve the official language goal we need to make loyalty, commitment and practice an important part of our work. He gave several tips to create a more positive and encouraging environment towards the official language in the company on the occasion. He advised the Department of Official Language to maintain innovation in Rajbhasha Pakhwada and other activities every year.
The program started with Coal India Corporate Song. After this, tribute was paid to the renowned Hindi writer Suryakant Tripathi Nirala. The Board of Directors was welcomed by the Hindi book.
Issue-33 of the company's home magazine ' Koyala Bharti ' was released on this occasion. For the first time this magazine was published in both digital and printed forms. After this, the booklet 'Office Assistant' prepared by the Department of Official Language was also released by the Board of Directors.
Posted Date : 16-09-20
Categories : PSU NEWS
Tag Cloud: PSU NEWS