PM talks about the importance of education while addressing in Centenary convocation prime-minister-of-india-news
"The University of Mysore is a major center of the rich education system of ancient India and aspirations and capacities of future India. This university has realized the vision and resolutions of "Rajarshi" Nalvadi Krishnaraja Wadeyar and M. Visvesvaraya Ji"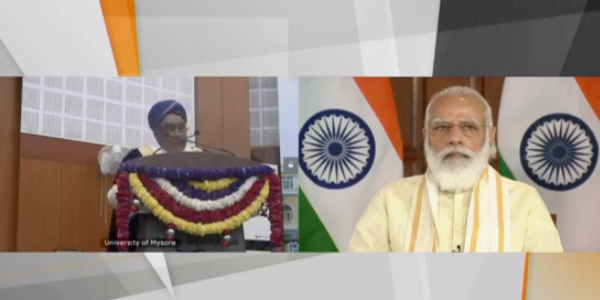 PM Modi while addressing in Centenary convocation of the University of Mysore (PSU Connect))
New Delhi: The Prime Minister of India today (October 19, 2020) addresses in Centenary convocation of the University of Mysore through Video Conferencing. The prime minister started his speech with the key highlights of the rich education system of ancient India.
PM said, "The University of Mysore is a major center of the rich education system of ancient India and aspirations and capacities of future India. This university has realized the vision and resolutions of "Rajarshi" Nalvadi Krishnaraja Wadeyar and M. Visvesvaraya Ji"
He considered Education and initiative as the two different stages of youth's life. While life inspires us to do something new. "This has been a tradition in us for thousands of years. When we talk of initiation, it is not just an opportunity to get a degree. Today's day inspires us to make new resolutions for the next stage of life" PM tweeted.
He congratulates the youth and said, now you are moving from a formal university campus to the Virat Campus of Real-Life University. This will be a campus where, along with the degree, your ability and work will come, the applicability of the knowledge that you have acquired will be useful.
He also mentions that even after 2014, there were 16 IITs in the country even after so many years of independence. In the last 6 years, on average, a new IIT has been opened every year. One of them is also open in Dharwad, Karnataka. As of 2014, there were 9 IIITs in India. In the subsequent 5 years, 16 IIITs have been created.
He suggested the focus on the Multi-dimensional Approach to make the capable youth of our country more competitive.
Posted Date : 19-10-20
Categories : prime-minister-of-india-news
Tag Cloud: prime-minister-of-india-news