PSU NEWS
SHRM completes Aanya 1.0 – Women Leadership Journey at SAIL
SAIL Chairman and Director of Personnel Commend Program's Success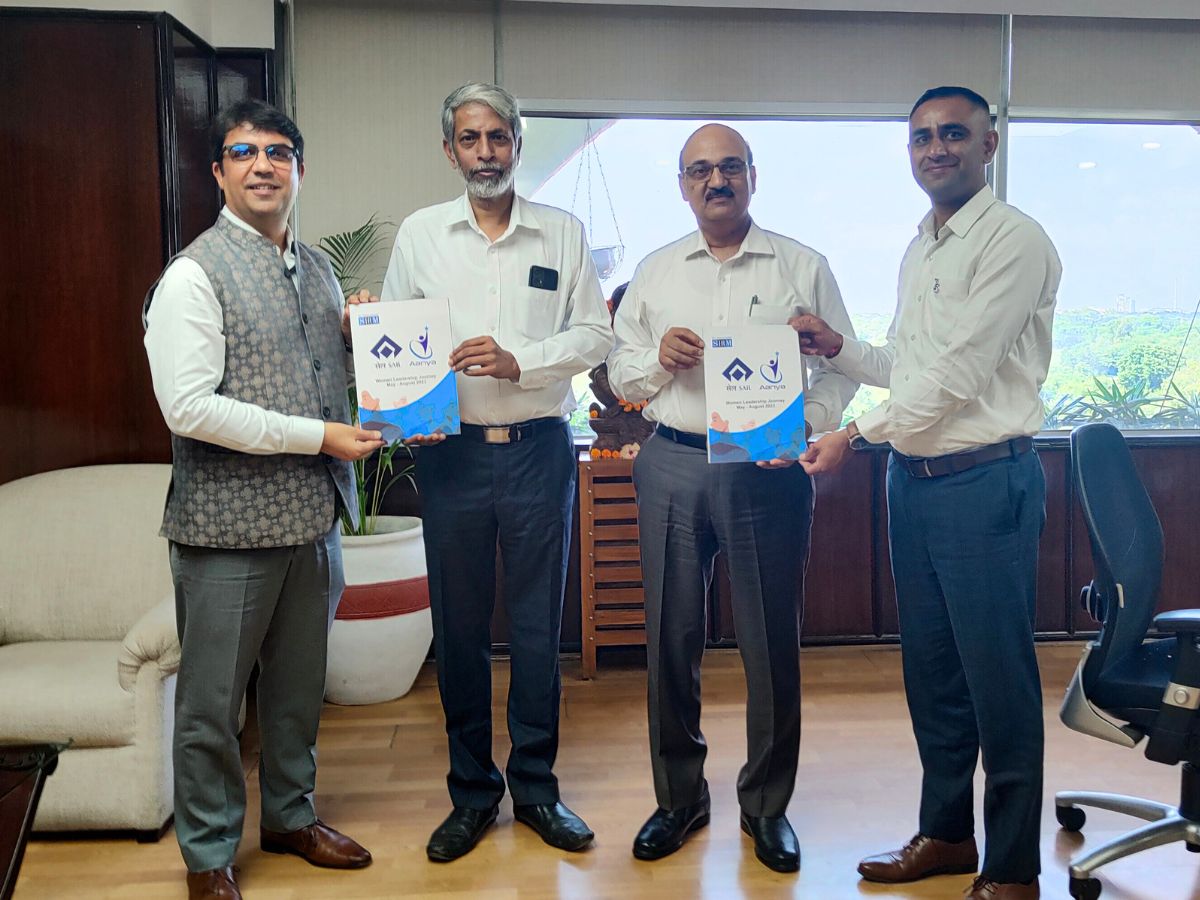 New Delhi, India – In a significant development for gender inclusivity and leadership development, the Steel Authority of India (SAIL) collaborated with the Society for Human Resource Management (SHRM) to launch the Aanya Women Leadership Journey.
The program completion report was presented in person to SAIL's Chairman, Shri Amarendu Prakash, and Director of Personnel, Shri Krishna Kumar Singh, by SHRM representatives Ashish Kaul, Director - Knowledge and Advisory and Business Head PSE, and Nishant Parashar, Business Development Manager, SHRM PSE.
A Glimpse of the Report
The Aanya Women Leadership Journey is a comprehensive leadership development program designed to empower and elevate women leaders within the organization. The program's aim is to enhance industry immersion and leadership skills among female employees of SAIL. To assess the program's impact, SHRM conducted detailed pre and post-assessment evaluations, revealing substantial improvements in participants' industry knowledge and leadership capabilities.
Read Also :
GRSE Hosts First-Ever National-Level QCC Competition for Defence PSUs
Chairman's Praise for Women's Leadership Development
Shri Amarendu Prakash, Chairman of SAIL, expressed his enthusiasm for the Aanya Women Leadership Journey and emphasized the importance of such initiatives. He remarked, "I am delighted to witness the success of the Aanya Women Leadership Journey. We are committed to fostering a culture of inclusivity and learning within SAIL. Leadership journeys like these, particularly focused on women's development, must continue to thrive. This program is a testament to our commitment to nurturing the growth and potential of our women leaders."
Read Also :
IOCL ranks top Indian Corporate in Bloomberg NEF Global Rankings 2023
Commitment to Learning and Development
Director of Personnel, Shri Krishna Kumar Singh, echoed Chairman Prakash's sentiments and stressed SAIL's dedication to furthering leadership interventions. He mentioned, "SAIL values Aanya as an essential framework for leadership development. We are proud to see the remarkable progress achieved by the program participants. We plan to leverage the same framework for various other leadership interventions at SAIL, ensuring that our employees continue to grow and excel."
The success of the Aanya Women Leadership Journey not only demonstrates the commitment of SAIL to gender diversity and leadership development but also underscores the fruitful collaboration between SAIL and SHRM. This initiative signifies the importance of empowering women leaders within the steel industry and sets an example for other organizations to follow suit.
As SAIL continues to forge ahead in its pursuit of excellence, the Aanya Women Leadership Journey stands as a testament to the organization's dedication to fostering a diverse, inclusive, and innovative work environment.
For more information on the Aanya Women Leadership Journey and its impact, please write at [email protected]
Read Also :
THDC lowers Main Inlet Valve of Second Unit in1000 MW Tehri Pumped Storage Project