BEML Empolyee Wins Prime Minister's 'Shram Shree Aaward' HONOR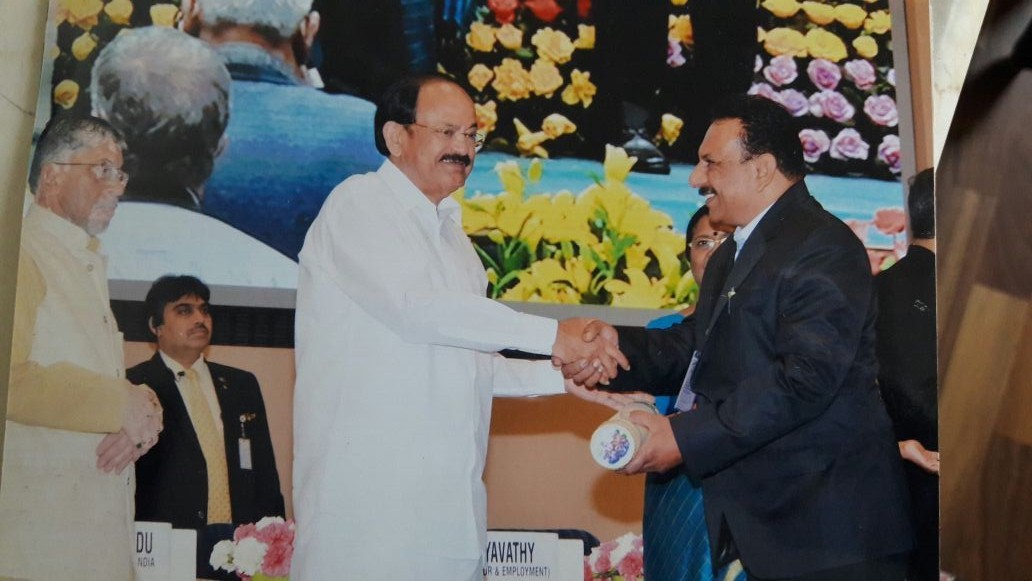 New Delhi: Shri TM Thammaiah, an employee of BEML Limited, has been conferred with prestigious Prime Minister's Shram Shree Award for the year 2016 for his outstanding work.  Against stiff competition on all India basis, Mr. Thammaiah stood one among the 20 recipients of this Award in our Country. He received the Award from Shri Venkaiah Naidu, Hon'ble Vice President of India.
The Award is initiated by Ministry of Labour & Employment are given to the Workers in the Public Sector Undertakings, Departmental undertakings, Units and Private Sector Units in recognition of their distinguished performance, innovative ability, outstanding contribution in the field of productivity and exhibition of exceptional courage and presence of mind. It is noted that he is the only Employee, selected for this Award amongst Bangalore Based PSU's.
Shri Thammaiah recipient of BEML Quality, Nonimara, Outstanding merit awards, working in BEML Mysore Complex has achieved the major breakthrough for the Company by Design & Manufacture of the Boring fixture to Akash Missile components, which were supplied to M/s. DRDL Hyderabad.  His outstanding efforts in Design & Manufacture of huge boring fixtures for Heavy Duty Dump Trucks of 150 Tons & 205 Tons, indigenization of various critical components etc., which not only brought good savings to the Company but also realizing 'Make in India' vision of the Country.
Complimenting Mr. Thammaiah, Shri DK Hota, CMD, BEML said, he is a role model for all Bemilians and future generations.
Posted Date : 28-02-18
Categories : HONOR