RINL-VSP Employees brought Laurels at National Level HONOR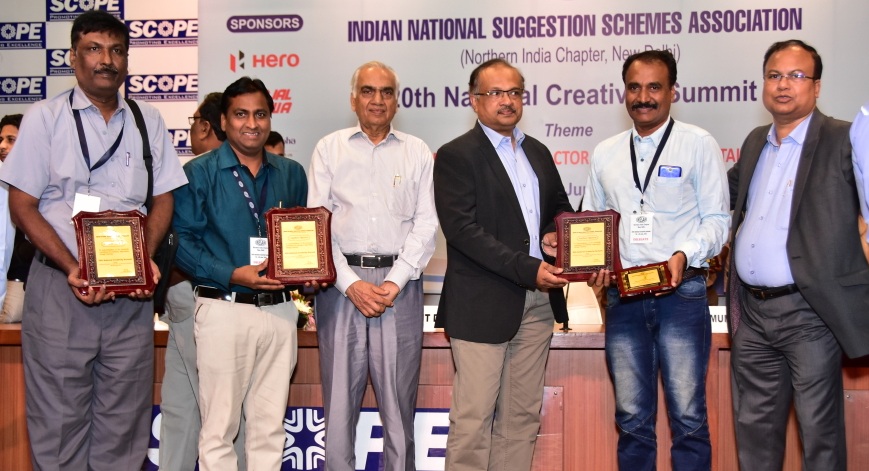 New Delhi: RINL-Vizag Steel Plant employees came out with flying colours this year also by bagging several awards at the national level competitions held in suggestion schemes, innovations etc. The awards were presented to VSP employees at INSSAN's National Creativity Summit held at Delhi.
Shri P Raychaudhury, CMD, RINL-VSP commended the employees for their achievements and also for bringing fame and name to the organization.
Three employees from RINL-VSP participated as delegates in the 20th National Creativity Summit at the SCOPE Convention Center, New Delhi. Approximately 160 delegates from various organizations attended the Convention and the delegates are eminent personalities from business organizations and academia.
The participants from RINL-VSP performed outstandingly in different competitions and bagged three awards for the first time in Sujhav Ratan Awards category. The employees are: Shri R Satyanarayana, AGM, RS & RS dept, Shri A Venkatesan, Dy. Manager, Instrumentation dept, and Shri D Hari Babu, Sr. Foreman(S)-Mech, WRM dept.
Shri A Venkatesan, Dy. Manager, Instrumentation dept. and Shri D Hari Babu, Sr. Foreman(S)-Mech, WRM dept. have also won the Distinguished Awards for their case studies presentation.
The awards were instituted by Indian National Suggestion Schemes' Association (INSSAN), a Non-profit Professional body dedicated to the promotion of Suggestion Schemes in various Manufacturing & Service industries, Hospitals and Academia for effective employee involvement, innovation and excellence. Rashtriya Ispat Nigam Limited – Visakhapatnam Steel Plant is also a member organisation of this esteemed institution.
It is worth mentioning that RINL has been in the forefront in the implementation of Suggestion Schemes thereby showcasing the innovative and inherent abilities among the employees in improving the productivity in the Company. 
Posted Date : 14-06-18
Categories : HONOR