Hong Kong protester carries Indian flag said STAND WITH INDIA International News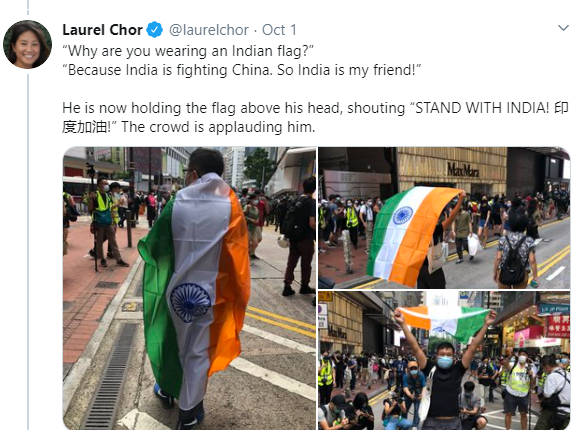 Hong Kong: Hong Kong protestors protesting against the Chinese government and supporting India on China's national day. People came out on the roads to raise their voices against the Chinese government. The pro-democracy protesters have been on streets on and off since last year after China passed Hong Kong's Extradition Bill to allow Hong Kong to detain and transfer people wanted in territories and countries that do not have formal agreements for extradition. It includes Taiwan and the Chinese mainland.
Laurel Chor the Photographer and a Journalist from Hong Kong shared some visuals of the latest protest held on October 1, 2020 (Thursday) through Twitter. The visuals, caught a man wearing an Indian flag on his shoulder and shouting "STAND WITH INDIA" and the crowd was applauding him. When he was asked why he was wearing he simply replied and said because "Because India is fighting China. So, India is my friend!" Laurel mentioned in her tweet
This protest takes place last year when the Chinese government passed the Hong Kong extradition bill and the Hong Kong police for the first time fired shot at a young protester.
Thousands of people came onto the streets of Hong Kong, chanting slogans like "Liberate Hong Kong, Revolution of our Times", the police came forward to thwart the protests.
The police said that slogans demanding to liberate Hong Kong was tantamount to inviting people to "commit secession", and a possible breach of the national security law.
Posted Date : 03-10-20
Categories : International News
Tag Cloud: International News