CSR
MIDHANI sponsored Automatic PSA Oxygen Generator Plant under CSR
Dr. S K Jha, Chairman & Managing Director, MIDHANI inaugurated the plant on 18.12.2021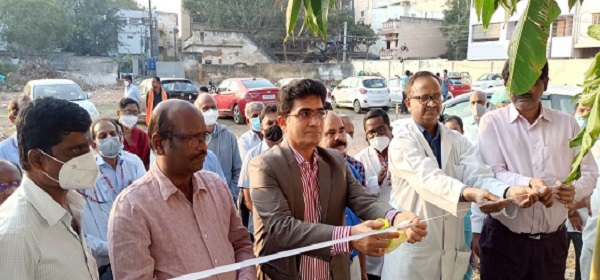 New Delhi: MISHRA DHATU NIGAM LIMITED (MIDHANI), a Miniratna, Schedule B Defense Public Sector Unit under Department of Defense Production, Ministry of Defense, sponsored Automatic PSA Oxygen Generator Plant under Corporate Social Responsibility to Osmania General Hospital, Hyderabad.
Dr. S K Jha, Chairman & Managing Director, MIDHANI inaugurated the plant on 18.12.2021 in the august presence of Shri N Gowri Sankara Rao, Director (Finance), MIDHANI and other Senior Executives of MIDHANI. Dr. B Nagendar, Superintendent, Osmania General Hospital, Dr. Triveni, Addl. Superintendent, Dr. Seshadri, Civil Surgeon -RMO & team of Osmania Hospital were also present for the inaugural ceremony.
Dr. S K Jha told that Mishra Dhatu Nigam Limited (MIDHANI) under Corporate Social Responsibility has been undertaking many activities in the areas of Health Care, Sanitation, Education, Skill Development etc to help the deprived and underprivileged class of the society. However, this particular activity of sponsoring an Oxygen Generator Plant worth Rs 1 Crore to Osmania General Hospital which is one of the oldest Hospitals in India and the biggest in the State, shall remain historic.
In the midst of the spread of new variants of COVID, this facility is a boon to patients who are in need of oxygen support. He also added that MIDHANI hopes to see the Hospital making the best use of the facility by treating the patients free of cost.
Dr. B Nagendar, Superintendent, Osmania Hospital, Dr.Pandu Naik, Prof HOD Anesthesia, & his team expressed their gratitude to MIDHANI for providing such a facility to Osmania Hospital, where thousands of patients are given medical treatment. This will help in meeting the oxygen requirement of patients in wake of new COVID variants.