PSU NEWS
Rajnath Singh inaugurates MIDHANI Exhibition of its products for public
The display of products is open from 10 AM to 5 PM daily between 13th to 19th December 2021.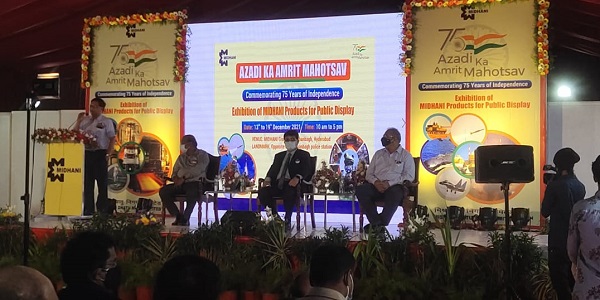 "Exhibition of MIDHANI Products for Public Display" has been inaugurated by Hon'ble Raksha Mantri Shri Rajnath Singh Ji at two locations, Hyderabad & Rohtak virtually along with other organization locations.

As a part of Celebrations of 75 years of Independence "Azadi ka Amrut Mahotsav", an exhibition is being set up by Mishra Dhatu Nigam Limited (MIDHANI) a Defence PSU from 13th to 19th December 2021 at Kanchanbagh, Hyderabad. This exhibition will showcase the growth journey of MIDHANI's and its contributions to the Atma Nirbharata over the years. It will also display its capabilities and the products developed for various strategic programmes like Defence, Space and Energy Sector in the country. The display will include innovations in R&D, manufacturing processes, raw materials & advancements in Special Steel, Titanium Alloys, and Super Alloys.

This exhibition will showcase exciting products on display that would be of interest to common person like Bullet Proof Jacket, Vest, Helmet, Patka, Shield, Composite armour set for Mine protected vehicle, BP Morcha, Bombshell, Shape memory alloy, Carbon fiber, 3D powders, High-Pressure Engine disc, Virgin raw materials, Titanium valves, Titanium filters, Titanium castings for space & Navy, Bio-implants, Fasteners, Springs and Railway axles.
Dr. SK Jha, CMD, MIDHANI, N.Gowri Sankara Rao, Director, Finance, Dr.Upender Vennam, CVO, Sr.Officials, and employees have attended the event. Today students of MGIT, Hyderabad, Vanitha Mahavidhyalay, Namapally, Hyderabad, and BPDAV school, MIDHANI along with the general public have visited the exhibition.
During the exhibition, eminent speakers in metallurgy and material science will explain on latest advancements in the field of materials from raw materials to finished products to components to its final place in the platform. This event will be open to all school and college students apart from the general public. MIDHANi will ensure maintaining all the Covid protocol during the entire event.

The display of products is open from 10 AM to 5 PM daily between 13th to 19th December 2021.