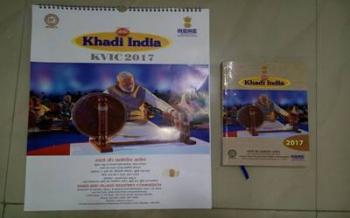 Mumbai. In a surprise development, Prime Minister Narendra Modi has aejected Father of the Nation Mahatma Gandhi in the 2017 wall calendars and table diaries published by the Khadi Village Industries Commission (KVIC), official sources said here on Thursday.
Most employees and officials were taken aback to see the cover photo of the calendar and diary showing Modi weaving khadi on a large 'charkha', in the same iconic pose as Gandhiji.
As expected, the decision hasn't gone down well with the employees of KVIC and staff working at its Vile Parle headquarters organised "a silent, soul-cleansing" protest wearing black bands on their mouths on Thursday.
One senior employee, while wishing to remain anonymous, said, "We are pained at this systematic easing out of Mahatma Gandhi's ideas, philosophy and ideals by the government. Last year, the first attempt was made by including the PM's photos in the calendar." KVIC falls under the union ministry of micro, small and medium enterprises. IANS
Posted Date : 13-01-17
Categories : prime-minister-of-india-news
Tag Cloud: prime-minister-of-india-news