RailTel Celebrates 21st Foundation Day PSU NEWS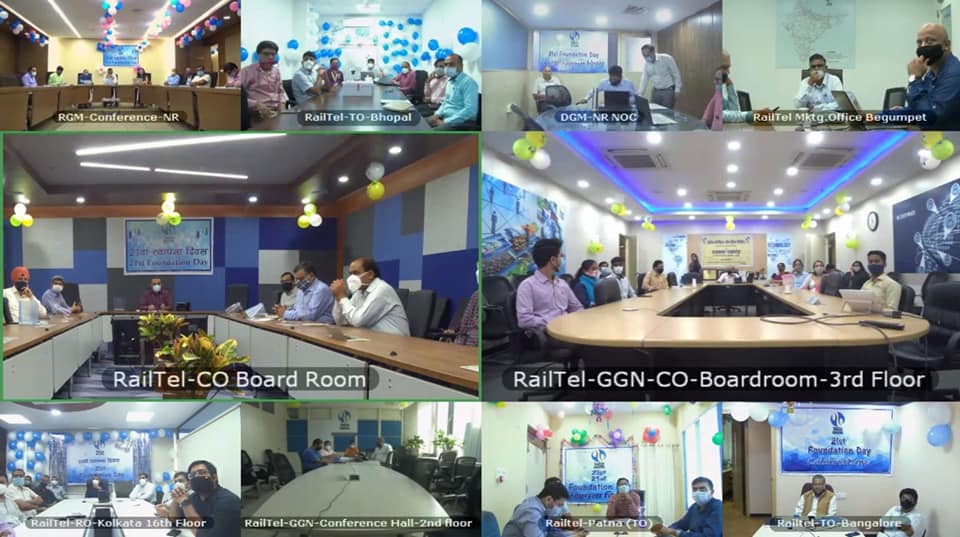 New Delhi: RailTel completed a glorious journey of 20 years and to mark the occasion of 21st Foundation Day a virtual get together, connecting 500+ employees across the country was organized. Sh. Puneet Chawla, CMD RailTel and Sh. A.K. Chopra, the first MD and founder of RailTel addressed and interacted with the RailTel team in this event.
Addressing the RailTel family on this occasion, Sh. Puneet Chawla, CMD RailTel, said" It is a matter of pride for all us that despite steep competition we have managed to register a steady growth and our hard work has made RailTel feature in the Fortune next 500 list.
Sh Chawla also added that "Now we need to focus on maintaining the momentum and focus on Railwire and our Digital services to keep the profit high. We also need to expand our network to meet the market demand"
Sh. A.K. Chopra, in his address, shared the fascinating story of how RailTel was formed and registered in a very short notice. He thanked the 42-member founding team of RailTel whose dedication laid a strong foundation stone for the company. He shared that it was his dream that RailTel will become an enabler bringing internet service to every village and provide content on moving train through Wi-Fi. He expressed his happiness on how RailTel is continuously working towards fulfilling the vision of bridging the digital divide. Sh. Chopra also congratulated the present team of RailTel for keeping the RailTel flag higher than ever.
Posted Date : 29-09-20
Categories : PSU NEWS
Tag Cloud: PSU NEWS