MOU
WAPCOS, NIWE signed MoU for mutual co-operation in Wind Energy field
An MoU was signed today between WAPCOS and National Institute of Wind Energy (NIWE)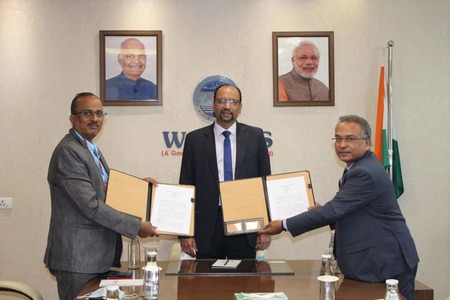 New Delhi: An MoU was signed today between WAPCOS and National Institute of Wind Energy (NIWE), an autonomous R&D institution under the Ministryof New and Renewable Energy, Government of India at WAPCOS, New Delhi office for mutual co-operation in the field of Wind Energy.
In the presence of Mr. R. K. Agrawal, CMD, WAPCOS & NPCC, the MoU was exchanged between Mr. Anupam Mishra, Director (C&HRD), WAPCOS and Dr. K. Balaraman, Director General, NIWE.
The event was also attended by Mr. Amitabh Tripathi, Senior Executive Director (D&RE); Mr. Ankur Panwar, General Manager (RE,T&D) and Mr. Manoj Kumar, Addl. Chief Engineer (Power), WAPCOS Ministry of Jal Shakti, Department of Water Resources, RD & GR NPCC Limited.