Shri P. K. Sinha, CMD NCL Awarded with IMA Excellence Award HONOR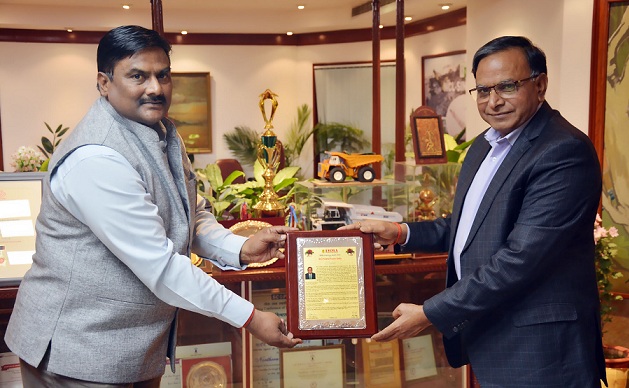 Dhanbad: Shri Prabhat Kumar Sinha,
Chairman & Managing Director,
Northern Coalfields Limited,
has been awarded 'IMMA Excellence Award 2018' for his outstanding contribution to the Indian coal industry. Shri Sinha, who has to his credit more than 36 years of diverse experience as a mining engineer in the field of opencast and underground coal mining, has been awarded by Indian Mine Managers' Association for outstanding contribution to the mining industry, the professional bodies, academic institutions and society at large.
The award was presented in 6th Indian Mine Managers Congress (IMMC) organized in Dhanbad from 1 to 2 December. General Manager (Mining) Shri B.N.Singh received the award on behalf of Shri Sinha. The award was handed over to Shri Sinha by Shri Satish Jha, General Manager (Corporate Planning) & General Secretary of IMMA Singrauli Chapter on Tuesday in NCL Headquarters.
The award is another feather in the cap of CMD NCL Shri Prabhat Kumar Sinha as he has many awards and recognition to his name. Recently, MGMI honoured Shri Sinha for authoring the best case study on the management of overburden (OB) in adverse conditions in opencast coal mines. Shri Sinha has also been conferred with the esteemed Indian Chamber of Commerce (ICC) PSE Excellence Award. The award has been conferred on Shri Sinha for his contribution in the national economy as a leader of a Public Sector Enterprise (PSE).
Shri Sinha has been awarded with prestigious awards during his tenure as Director (Technical/Project & Planning) of South Eastern Coalfields Limited (SECL) when the President of India conferred National Mine Safety Award to him. MGMI had also conferred the Best Mine Manager award to Shri Sinha consecutively for two years in 2012 and 2013. Shri Sinha has also presented various technical papers on national and international forums.
Shri Sinha assumed the charge of CMD NCL in December 2017. Under his leadership, the company has been hitting new milestones across the performance parameters. The company produced 93.01 million tonnes of coal and dispatched 96.73 million tonnes of coal in F.Y. 2017-18 which is not only more than the assigned targets but also the highest so far in the history of the company. With this achievement, the company became the lone subsidiary of CIL achieving the targets timely.
Posted Date : 07-12-18
Categories : HONOR