MDL Stats Production of 4th Destroyer of Visakhapatnam Class PSU NEWS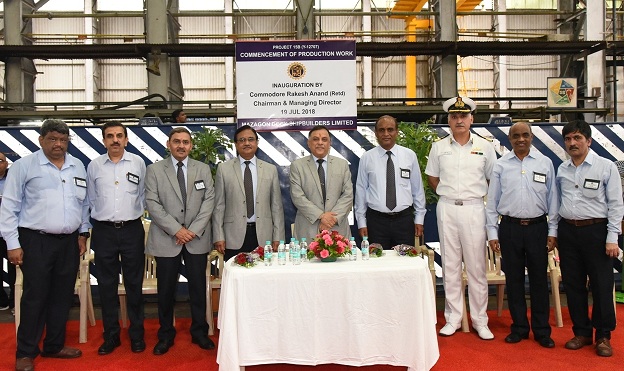 Mumbai: Commodore Rakesh Anand,
Chairman & Managing Director,
Mazagon Dock Shipbuilders Limited,
inaugurated the Commencement of Production activity of Y-12707, fourth destroyer of Visakhapatnam Class on 19 July' 2018 in the South Yard Production Shop, in the presence of
Mr. Sanjiv Sharma,
Director (Finance);
Cmde T V Thomas,
Director (Corporate Planning and Personnel);
RAdm A K Saxena,
Director (Shipbuilding),
Mr. Satish Pendharkar,
Chief Vigilance Officer and other senior officials of MDL and Indian Navy. 
The Visakhapatnam class destroyers (P15B) are follow-on warships of the Kolkata class. Four destroyers in this class are under construction in MDL. The first of P15B warship 'Visakhapatnam' was launched in April 2015 and the second 'Mormugao' in September 2016. Both are at advanced stages of outfitting.
The P15B class destroyers will have enhanced stealth characteristics.  These ships are being built using indigenously developed steel and fitted with state-of-the-art weapon and sensor systems. They will have advanced Integrated Platform Management System.
Posted Date : 20-07-18
Categories : PSU NEWS