REIL gets PSE Excellence Award HONOR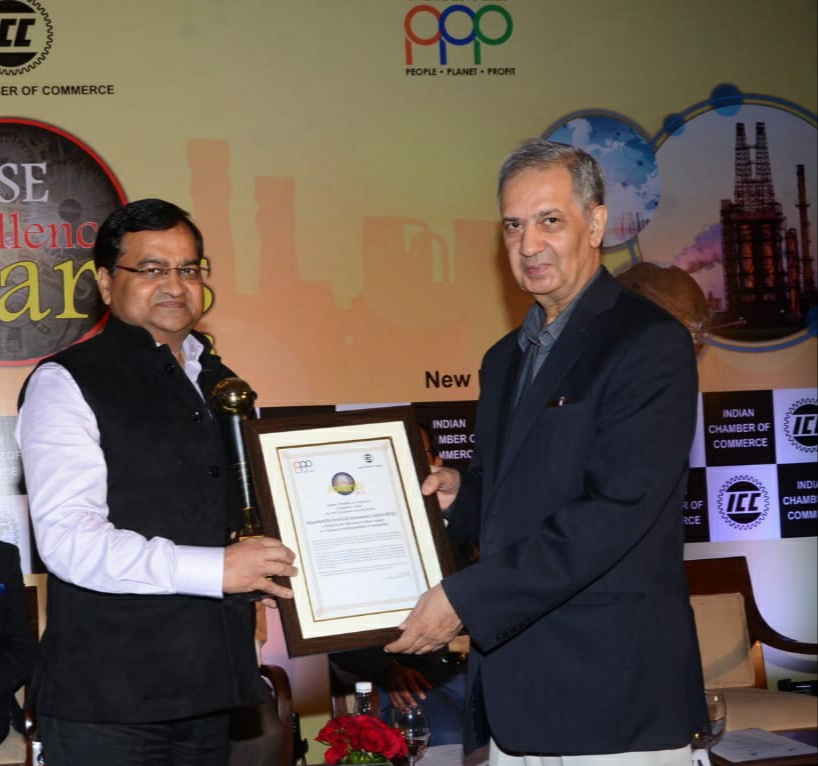 New Delhi. The Rajasthan Electronics & Instruments Limited (REIL), Jaipur received the "9th PSE Excellence Award" in CSR & sustainability Category.  The prestigious award was presented to Dr. A. K. Jain, Managing Director by Jury Member ICC, Shri Alok Perti, Advisor, Ministry of Coal, Government of India in the presence of Jury Chair ICC, Dr. Bhaskar Chatarjee, Former Secretary in the gracious presence of other eminent personalities in a ceremony held in New Delhi. The award has been instituted by Indian Chamber of Commerce (ICC) to recognize the contribution of Public Sector Enterprises in the growth of the country. 
On this occasion, Dr. A.K. Jain, MD REIL was also felicitated and recognized for his outstanding contribution to growth of the Company and Industrial Growth in the Country. 
Dr. Jain iterated that REIL while meeting its operational objectives is committed to development & upliftment of the society through its Corporate Social Responsibility initiatives. The Company follows "Be a Committed Corporate Entity, alive towards its Corporate Social Responsibility as per the emerging needs of the society". This commitment will always continue to be beyond statutory requirements. Corporate Social Responsibility is, therefore, closely linked with REIL's activities of Sustainable Development. The Company continues to put in efforts towards Corporate Social Responsibility beyond philanthropic activities and will put in efforts for the integration of social and business goals. REIL's activities need to be seen as those which would, in the long term, help secure a sustainable development.
Dr A.K. Jain, Managing Director, REIL, thanked the organizers and the Jury, for selecting REIL for this prestigious award and acknowledged the support and guidance from the Ministry of Heavy Industries and Public Enterprises & Department of Heavy Industry, Government of India and Government of Rajasthan. 
Dr. Jain congratulated the employees of REIL for this award and assured that the Company would continue to deliver Electronics, Renewable Energy and Information Technology based solutions and services for social & economical development of rural & un-urbanized rural brethren. 
Posted Date : 30-08-19
Categories : HONOR