SJVN sets Ambitious Target of Skilling over 6000 Local Farmers MOU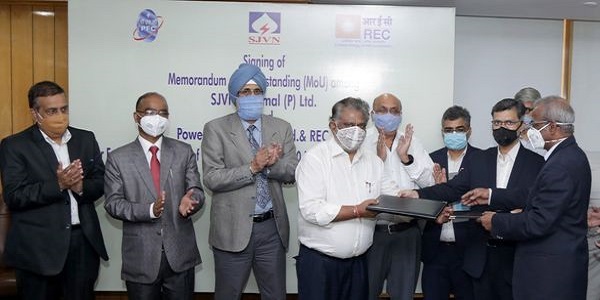 Shimla:
Prime minister of India,
Shri Narendra Modi
has set the ambitious target of doubling the income of farmers by 2022. Taking the clue from this,
SJVN Limited
has set for itself an ambitious targets for skilling over 6000 farmers by 2022 in latest farm techniques and knowhow. In this direction, as a part of its
Corporate Social Responsibility,
SJVN entered into an MOU with CSK Himachal Pradesh Agriculture University, Palampur. The agreement has been entered for conducting 6 days residential skill development programs in farm technology for 800 farmers. The total cost of the project is around 63 Lakh.
The MOU has been signed in the august presence of Prof. Ashok Kumar Saryal, VC, CSK HPKV, Palampur and Shri D. P. Kaushal, CGM (HR), SJVN on 22th June 2019 by Shri Y. P. Thakur, Director Extension and Shri Dhiraj Gupta, Manager (CSR), Shri Des Raj Choudhary, Professor (Vegetables) and Shri Harsh Jain, Asst. Manager (HR) were also present.
The trainings and skill development would be under the areas of Zero Budget farming, Agriculture, Floriculture, Vegetable, Mushroom Production, Bee-Keeping, Medicinal and Aromatic Plants, Nursery production, Dairy Farming, Polyhouse Cultivation (horticulture and forestry crops), start up Agriprenureship, Plant Protection, Organic Farming and environment Impact Assessment. The course fees, boarding and lodging charges will be borne by SJVN and in addition, the farmers will be given a stipend of Rs. 1400 for attending this residential program.
SJVN undertakes its CSR and Sustainability projects in 6 verticals namely, Health & hygiene, Education & Skill Development, Sustainable Development, Infrastructural & community development, Assistance during natural disaster, Promotion of culture, mela & Sports. In the last five years more than 5000 local youth have been trained in various vocational trades namely Welder, Electrician, Site accountant, Cutting and tailoring, Hospitality, Bed side attendant etc. In the area of health, SJVN is operating 15 mobile health vans in the states of HP, Uttrakhand, Bihar and Arunachal Pradesh which have benefitted more than 7 lakh patients. In addition, projects for disable section of society like providing aids and assistive devices to persons with disabilities through ALIMCO, financial assistance for construction of Muscular Dystrophy Institute are being running.
SJVN is also active in construction of community assets like Panchayat Ghar, Mahila Mandal, playgrounds and in last few years more than 200 community assets have been created.
Posted Date : 22-06-19
Categories : MOU