Central Warehousing Corporation signed MoU with MoFPI MOU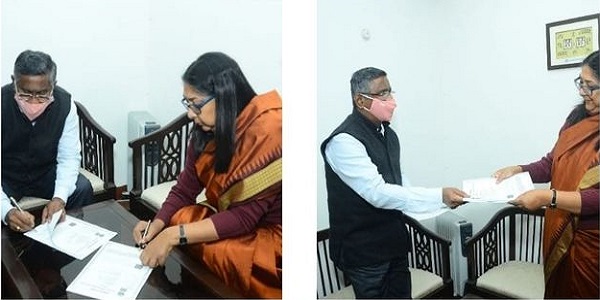 New Delhi: Central Warehousing Corporation (CWC), A CPSE public warehouse operator signed an MOU with the Ministry of Food Processing Industries today Jan 14, 2021, to expand the Ministry's financial assistance scheme to private investors to develop an Integrated Cold Chain and Value Added Infrastructure at CWC facilities.
The collaboration will help to build an integrated cold chain and value-added infrastructure in the North East Region.
Central Warehousing Corporation's main aim is to provide reliable, cost-effective, value-added, integrated warehousing, and logistics solution in a socially responsible and environmental friendly manner.
As on Dec 31, 2019, this premier Warehousing Agency operating 415 warehouses with a total storage capacity of 101.44 lakh MT including 25 Container Freight Stations (CFSs)/ Inland Clearance Depots (ICDs), 3 Air Cargo Complexes (ACCs), 2 Inland Check Posts (ICPs) at Petrapole and Attari and 3 Temperature Controlled Warehouses.
The activities done under the Warehousing of CWC includes foodgrain warehouses, industrial warehousing, custom bonded warehouses, container freight stations, inland clearance depots, and air cargo complexes.
Posted Date : 14-01-21
Categories : MOU
Tag Cloud: MOU