GRSE celebrated the second phase of India @ 75 from 16 Jul 21 to 22 Jul 21.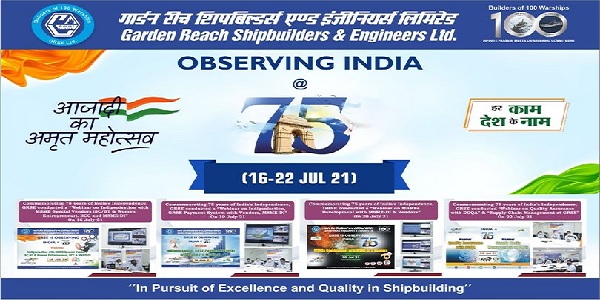 New Delhi: Embracing Indigenization and encouraging active MSME participation in the Government of India's Aatmanirbhar Abhiyaan, Garden Reach Shipbuilders and Engineers Ltd., (GRSE), a Mini Ratna Category 1 Defence PSU and a leading warship building company of India, operating under the administrative control of the Ministry of Defence, celebrated the second phase of India @ 75 from 16 Jul 21 to 22 Jul 21. The first phase of the celebration was observed by GRSE from 23 Apr 21 to 28 Apr 21.

The week-long celebration witnessed five focused webinars. On 16 Jul 21, the first webinar was conducted on "Indigenization with MSME Special Vendors (SC/ST & Women Entrepreneur), BCC and MSME-DI" which encouraged women leadership roles in the advancement of MSME sector and contribution towards 'Aatmanirbharata'. On 19 Jul 21, a "Webinar on Indigenization, GRSE-Payment System with Vendors, MSME-DI" was organized which emphasized the payment gateways involved in MSME transactions.
20 Jul 21 witnessed another webinar on "MSMEs Development with MSME-DI & Vendors" with a focus on expansion and enhanced participation of Indian MSMEs followed by a "Webinar on Quality Assurance with DGQA" and "Webinar on Supply Chain Management at GRSE" on 22 Jul 21.

About GRSE:
Garden Reach Shipbuilders & Engineers Ltd is the premier Warship building Company in India, under the administrative control of Ministry of Defence. GRSE, a PCMM Level-2 Certified Company and 40th ranked Fortune India Next 500 Company 2021, dates back to 1884. The Company was taken over by the Government of India in 1960. First shipyard of independent India to build a Seaward Defence Boat (SDB) INS Ajay for Indian Navy in 1961, GRSE also built the first ever Indian Export Warship "CGS Barracuda".
The shipyard was conferred the status of a Miniratna Category I Company in 2006. Over last 61 years, GRSE has built 788 platforms including 107 warships for Indian Navy, Indian Coast Guard, and Government of Mauritius & Seychelles Coast Guard - highest warships built & delivered by any Indian shipyard till date. From Frigates, Corvettes, Fleet Tankers, Landing Ship Tank, Landing Craft Utility to Survey Vessels, Offshore Patrol Vessels and Fast Attack Craft - the repertoire is rich and varied. In addition to ship building, GRSE is also engaged in engine production and other engineering activities. The engineering division manufactures deck machinery items, pre-fabricated portable steel bridges and marine pumps. Noteworthy accolades include Defence Minister's Award for Excellence 2015-2016 for In-house Design Effort for Offshore Patrol Vessel for Government of Mauritius, CGS Barracuda, Best Performing Defence Shipyard of India for Four Years in a row.
GRSE embraced infrastructure modernisation over past decades and delightful impact was perceived in the concurrent construction of 20 ships at a time. Team of highly skilled design engineers and state of art VR Lab & latest softwares cater to the in-house design capabilities. With proven credentials, the shipyard is on a growth path, reaffirming its motto "In Pursuit of Excellence and Quality in Shipbuilding".
Posted Date : 22-07-21
Categories : PSU NEWS
Tag Cloud: PSU NEWS