RIL appoints former CVC K.V. Chowdary as Director NEW FACES IN PSUS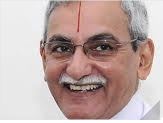 NEW DELHI . Reliance Industries Limited (RIL) has appointed former Central Vigilance Commissioner (CVC) K.V. Chowdary as additional director on its board.
"The Board of Directors has appointed K.V. Chowdary as an Additional Director-Non-Executive. K.V. Chowdary is not related to any Director of the Company. In accordance with the circular dated June 20, 2018, issued by the Stock Exchanges, we hereby confirm that Shri K.V. Chowdary, is not debarred from holding the office of Director by virtue of any Securities and Exchange Board of India (SEBI) order or any other such authority," said a RIL statement in filing to the exchanges.
Posted Date : 21-10-19
Categories : NEW FACES IN PSUS