NTPC Wins Nine PRSI National Awards HONOR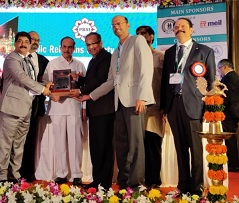 HYDEABAD . NTPC received nine (9) awards at the Annual PRSI National Awards 2019 held at Hyderabad today. Shri A.N Verma ED (HR), NTPC , Shri Sudarshan Babu,CGM, NTPC Simhadri, Shri CS Srinivas,GM(Operations), Dadri, Shri K.M. Prashanth, HOD (CC), Shri A.K Das, DGM (CC) and officials from other award winning locations received the awards from Minister for Home, Prisons, Fire Services, Telangana.
NTPC Offices and Stations that won the PRSI National Awards 2019 are Corporate Centre, Simhadri, Unchahar, WR II HQ Raipur, Dadri and Rihand.
NTPC Team won awards in categories- Branding-PSU organisation implementing CSR, e-Newsletter, Event Management Branding, Newsletter (Hindi), Special/Prestige publication, Branding-Best CSR project for Women Development, Branding-Best CSR for childcare, corporate film (Hindi)
Posted Date : 14-12-19
Categories : HONOR