Shri Rajesh Prasad takes over as the director operations at Rail Vikas Nigam Ltd NEW FACES IN PSUS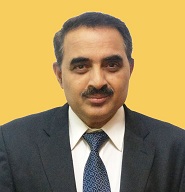 New Delhi: Shri RAJESH PRASAD has taken over as the Director Operations at Rail Vikas Nigam Ltd on 3.3.2020. He has graduated in Civil Engineering from IIT/Kanpur in 1987. He is also an M.Tech from IIT/Kanpur in Environmental Engineering and a Diploma holder in Track Machine Engineering from Austria. He is from prestigious Indian Railway Service of Engineers of 1988 Exam batch. He has already put in more than 30 years of distinguished service in Railways and RVNL in various capacities in operations and maintenance, construction, bridge design, general administration and fast track implementation of turnkey projects.
Shri Rajesh Prasad has earlier as Executive Director of Rail Vikas Nigam Limited for over 3 years. In past, he has got prestigious Railway Minister's Award, Service Medals and many Shields for outstanding contribution during his career in Railway and RVNL. He has written more than 25 technical papers which were presented in various forums. In RVNL, many flagship projects were completed and commissioned under his leadership, such as 3 major workshops on turnkey basis in record time and a Cable Stayed Bridge in Railway yard over Rajdhani route and its approach without affecting train operations. These projects diversified and added new dimension to RVNL.
Besides these, 110 KM double and third line projects and 686M long railway tunnel in Jharkhand have been commissioned, and 33 Kms of Metro in Kolkata has been constructed in different corridors by his team. Live health monitoring system was conceived and installed by him in Barddhaman Rail & Road over bridge - 1st of its kind on Indian Railway. He has got vast experience of leading multi-disciplinary team and execution of work in urban area. He has visited various countries in connection with various Metro works, project related to workshops and High Speed Railway.
Posted Date : 06-03-20
Categories : NEW FACES IN PSUS