CEL Commissioned Solar Power Plant in Maharashtra NEW FACES IN PSUS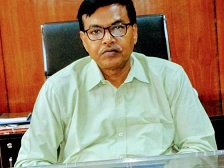 New Delhi: Central Electronics Limited,  has achieved another milestone by commissioning Ground Mounted Solar Power Plants with a cumulative capacity of 9MWp in the 1st quarter of financial year 2020-2021  for the Innovative project "Solar power for Agricultural Feeder".The Maharashtra State Electricity Distribution Corporation Ltd (MSEDCL) is the nodal agency for the project and EESL is the main contractor. The ground-mounted solar projects are being set up in notified areas.
The power plants at Ansarwada and Panchancholif are special in the sense that the complete work i.e. starting from land development till power evacuation has been carried out by the CEL.
Shri Bholanath Sarkar,CMD of Central Electronics Limited lauded the efforts of CEL's engineers and officers in achieving the commissioning of 9MWp Solar Power Plant during pandemic situation. He appreciated  the trust and support given by EESL and said that the company is committed for achieving the target of 120 MWp solar power plant installations in Maharashtra during this financial year. The company has already commissioned 38.5MWp Grid Tied Ground Mounted Solar Power Plants at 46 sites in Maharashtra and work is in progress at 10 sites with cumulative capacity of 10MWp during this difficult situation. These power plants are connected to dedicated Agricultural Feeders and the electricity generated is for the use of farmers.CEL's expertise and commitment has lead to timely completion of projects in remote locations and during the Covid-19 crisis period.
Mr. Manoj Kumar Sharma, PRO told that the CEL has commissioned its largest  grid connected ground mounted solar PV power plant at single location of capacity 3.24 MWp on 29th June 2020 at Ansarwada.  Commissioning of another 2.8 MWp Solar Power Plant at Panchancholi in Latur district on 30th June 2020.  Apart from these, CEL has commissioned solar power plants of 1.1 MWp at Selu, and 1.8 MWp cumulative at Redani, Nimgaon Ketki and Dahitane taking the total installed and commissioned capacity during the Covid-19 lockdown period to 9MWp.
Posted Date : 04-07-20
Categories : NEW FACES IN PSUS
Tag Cloud: NEW FACES IN PSUS