Coal India signs MoU with CRIS MOU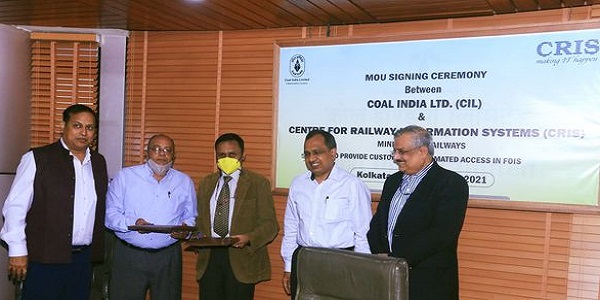 New Delhi: Coal India Ltd. has signed a Memorandum of Understanding with the Centre for Railway Information Systems (CRIS) of Indian Railways to provide customized automated access in its Freight Operation Information System (FOIS).
Shri. Pramod Agrawal, Chairman, CIL, Shri. Binay Dayal, Director - Technical, CIL, Shri. Sanjiv Soni, Director - Finance, CIL, Shri. S. N. Tiwary, Director - Marketing & Personnel &IR, CIL, and Shri. Saroj Kumar Sadangi, CVO, CIL and were present on the occasion.
The data sharing will offer CIL a bouquet of benefits that will help in rationalizing the entire coal supply matrix of rail mode. It will provide precise details of loading, weighment, and unloading details along with the turnaround time of rakes. It will also help in minimizing the instances of under loading and overloading of rakes thereby benefitting CIL, Railways, and the consumers. The resultant relevant information will ease the way for faster billing and bill monitoring process.
The data shared by CRIS will also provide CIL sanctioned coal and rake programs, rake demand, rake detention, and diversion details which will help the coal companies plan their supplies. CIL has developed a portal that will help in sharing the FOIS data with its subsidiary coal companies.
Posted Date : 22-02-21
Categories : MOU
Tag Cloud: MOU