HONOR
NTPC Bongaigaon wins Intra Regional Sports Meet Trophy of ER-II
A total of 64 players from four stations of ER -II participated in the tournament.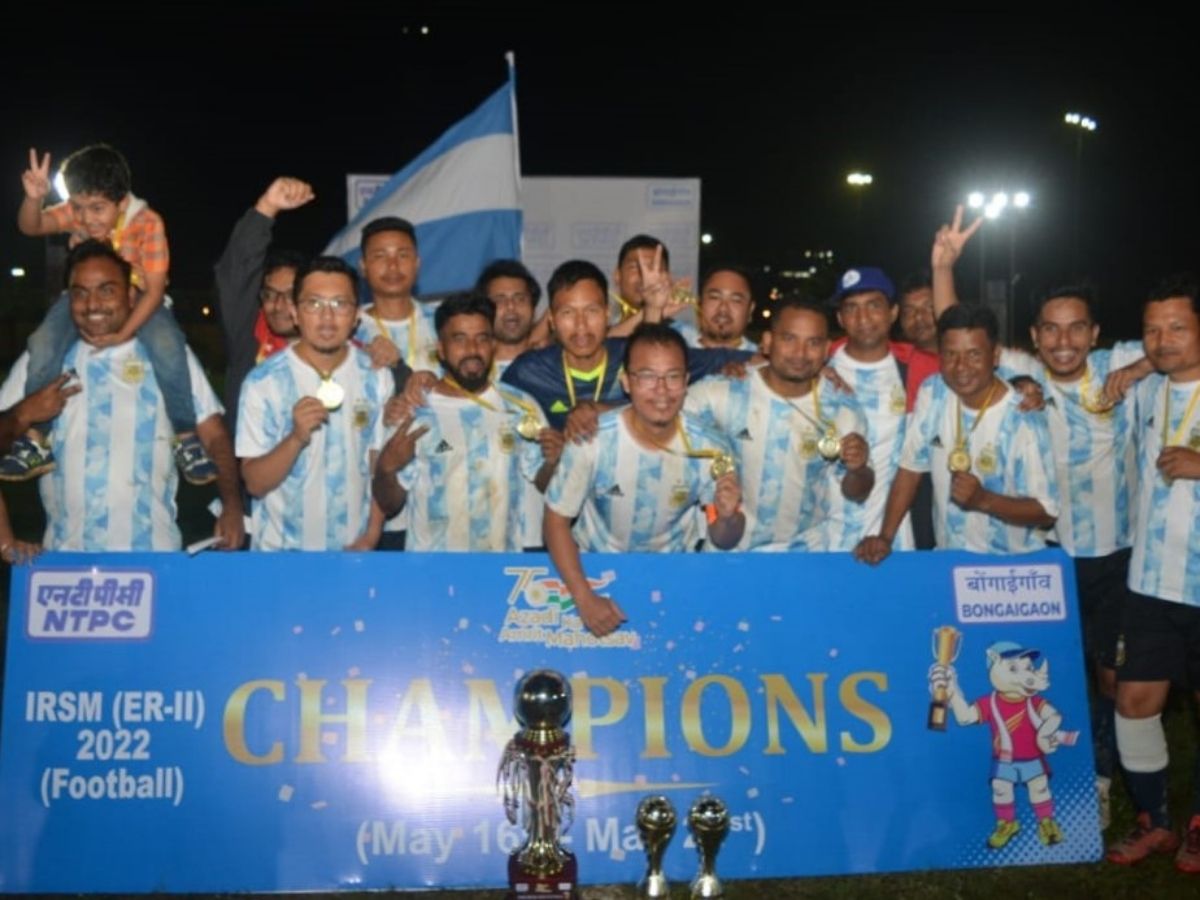 NTPC Bongaigaon wins Intra Regional Sports Meet Trophy of ER-II
Bongaigaon: NTPC Bongaigaon has won the coveted Intra Regional Sports Meet Trophy (IRSM-2022)-Football of ER-II defeating Talcher Kaniha (4-0). In the six-day electric event where four teams NTPC Bongaigaon, Darlipali, Talcher Thermal, and Talcher Kaniha participated, the host Team, NTPC Bongaigaon took the lead in all the league matches and finally won against the Talcher Kaniha team.
Chief Guest Shri Ashim Kumar Goswami, RED (ER-II) and special invitee on the occasion renowned footballer of India hailing from Assam Shri Halicharan Nazary inaugurated the final tournament in the presence of Shri Subrata Mandal, Executive Director, NTPC Bongaigaon, Shri T. Ravinder, GM (O&M), Shri Umesh Singh, GM (FM), Shri D P Patra, GM (Operations). Shri Induri Reddy, GM (Maintenance) and Shri Arunashis Das, GM (Projects).
Presenting the trophy, Shri Goswami spoke of the energy of the players which goes hand in hand with the spirit of NTPC. He praised NTPC Bongaigaon for conducting an event that had the look and feel of an international sporting event. The event also coincided with the Azadi Ka Amrit Mahotsav.
Shri H Benjamin Mawikhanlal Simte of NTPC Bongaigaon won the Golden Boot Award, Shri Anil Kumar Pradhan of NTPC Talcher Kaniha won the Golden Glove Award, NTPC Darlipali Team won the Fair play award, Shri Arjun Ray of NTPC Bongaigaon won the Best Player Award and NTPC Talcher Thermal won the Runners up Trophy.
The program was aired live across all NTPC stations through Microsoft Teams with all Head of Projects of all ER-II stations joining the program. President Vasudha Mahila Mandal, ER-II, Smt. Manjari Goswami, President Bardwi Shikla Ladies Club, Smt. Jayasree Mandal, Vice president Bardwi Shikla Ladies Club Smt. Vani Reddy, office bearers of Bardwi Shikla Ladies Club and employees in large numbers participated at NTPC Bongaigaon.
A total of 64 players from four stations of ER -II participated in the tournament.