prime-minister-of-india-news
PM Modi attends 42nd convocation of Anna University
The Prime Minister underlined the link between the progress of youth and the nation. He said in conclusion "Your growth is India's growth. Your learnings are India's learnings. Your victory is India's victory."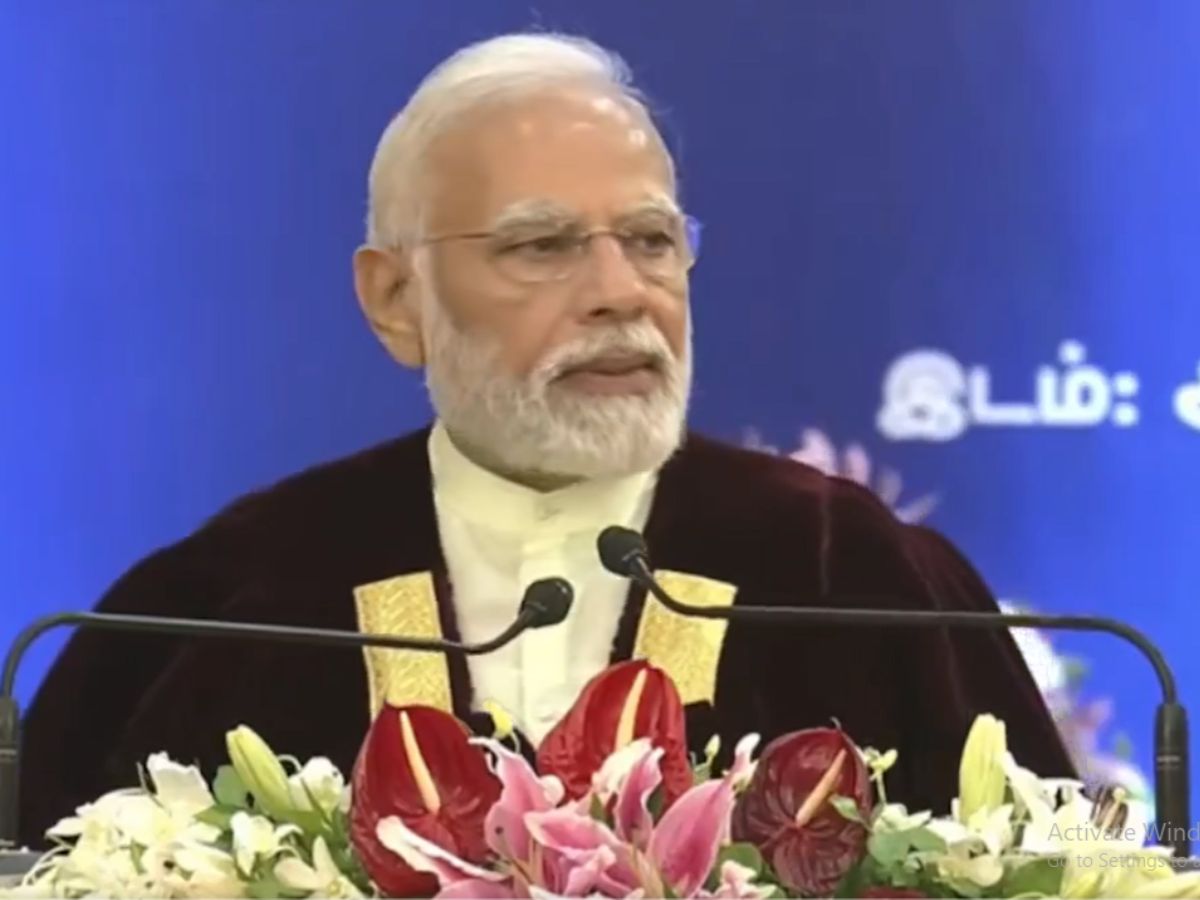 PM Modi attends 42nd convocation of Anna University
New Delhi: The Prime Minister Shri Narendra Modi attended the 42nd Convocation of Anna University in Chennai today. Governor of Tamil Nadu, Shri R N Ravi, Chief Minister Shri M K Stalin, Union Minister Shri L Murugan were among those present on the occasion.
Addressing the gathering, the Prime Minister congratulated the students on getting their degrees. "Congratulations to all those who are graduating today in Anna University's 42nd convocation. You would have already built a future for yourselves in your minds. Therefore, today is not only a day of achievements but also of aspirations", he said. Calling them the leaders of tomorrow, the Prime Minister also noted the sacrifices of the parents and support of teachers and nonteaching staff of the University.
The Prime Minister recalled the words of Swami Vivekananda in what was known as Madras 125 years ago about the possibilities from the youth of India. The Prime Minister remarked that "the whole world is looking at India's youth with hope. Because you are the growth engines of the country and India is the world's growth engine."
The Prime Minister also recalled Former President Dr A. P. J. Abdul Kalam's association with Anna University. "May his thoughts and values always inspire you", said the Prime Minister.
The Prime Minister noted that the COVID-19 pandemic was an unprecedented event. It was a once-in-a-century crisis that nobody had any user manual for. It tested every country. He remarked that adversities reveal what we are made of. India faced the unknown confidently, thanks to its scientists, healthcare professionals and common people.
The Prime Minister underlined the link between the progress of youth and the nation. He said in conclusion "Your growth is India's growth. Your learnings are India's learnings. Your victory is India's victory."
During the programme, the Prime Minister awarded gold medals and certificates to 69 gold medalists. Anna University was established on 4 September 1978. It is named after C. N. Annadurai, the former Chief Minister of Tamil Nadu. It has 13 Constituent Colleges, 494 Affiliated Colleges spread over Tamil Nadu and 3 Regional Campuses – Tirunelveli, Madurai and Coimbatore.