NMDC Spectacular Financial Performance for The Quarter Ending 31th Jan 2018 PERFORMANCE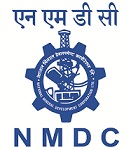 Hyderabad: NMDC has registered once again an impressive performance for the 3rd quarter (2018-19). NMDC's turnover for the third quarter 2018-19 is Rs.3,649 crore, against Rs.2,469 crore, in 
2017-18 (Q3) registering growth of 48%. Profit Before Tax (PBT) is Rs.2,211 crore against Rs.1,377 crore in 2017-18 (Q3) registering growth of 61%. Profit After Tax (PAT) is Rs.1,577 crore against Rs.887 crore in 2017-18 (Q3) registering growth of 78%.
The Company's production of iron ore for the third quarter 2018-19 is 9.54 Million Tonnes (MT) and sales of iron ore is 8.70 MT.
Recently, NMDC Board has approved buyback of 10,20,40,815 equity shares of Re.1/- each 
@ Rs.98 per share for an aggregate consideration not exceeding Rs.1,000 crore. The company has already initiated the process of a buyback.
The 3rd quarter results for 2018-19 were approved by the Board of Directors of the Company under the Chairmanship of Shri N. Baijendra Kumar, IAS in its meeting held on 31.01.2019.
Congratulating all the employees and Board Members, Shri Kumar said NMDC could achieve these encouraging results in spite of challenges faced by the company at Donimalai Sector in Karnataka and evacuation challenge at Bailadila Sector in Chhattisgarh. These inspired efforts of team NMDC would help in overcoming the adverse conditions and ensure that the company would certainly exceed the targets in future also.
Posted Date : 01-02-19
Categories : PERFORMANCE
Tag Cloud: PERFORMANCE