HDFC Bank opens an ATM near Kedarnath Temple BANK NEWS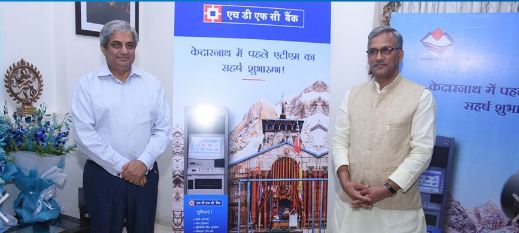 Rudraprayag:
HDFC Bank
has opened an ATM at 11,755 feet at Kedarnath Temple, and became the first bank in the country to do so. The ATM is set up in the shrine premises and will benefit over 35,000 devotees that visit the Temple every day.
The ATM was inaugurated remotely by Chief Minister of Uttarakhand, Shri Trivendra Singh Rawat, in the presence of Mr. AdityaPuri, Managing Director, HDFC Bank. 
'It is deeply satisfying to set up an ATM here and be of service to scores of people,' said Mr. Kumar Sanjeev, BBH, HDFC Bank. 'This initiative reiterates our commitment to make it convenient for people to bank with us by extending our services to the remotest part of the country.'
Posted Date : 02-08-19
Categories : BANK NEWS