Union Budget 2021-22 is a healthy mix of promise, potential, and progress: Raksha Mantri PSU NEWS
"It will enhance household income, support infrastructure development, our farmers, industry, education and very importantly the health sector amongst others."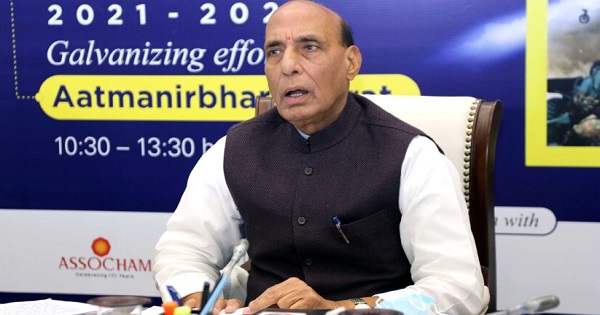 Union Defence Minister Shri Rajnath Singh gives a speech at a Webinar on 'Budget Announcements 2021-22' and India's Defence (PSU Connect)
New Delhi: Union Defence Minister Shri Rajnath Singh gives a speech at a Webinar on 'Budget Announcements 2021-22' and India's Defence. Shri Rajnath Singh started with the Union Budget for the year 2021-2022, which stands out as a unique initiative of our government, as he said.
"It brings a healthy mix of promise, potential, and progress. Its forward-looking agenda provides support for the defence and security of the country. It will enhance household income, support infrastructure development, our farmers, industry, education and very importantly the health sector amongst others."
This first-ever digital Union Budget came in the backdrop of COVID-19. The pandemic was a severe setback to economic growth in the general and the industrial sector in particular. The impact was felt more by small and medium-sized companies (MSMEs), given the challenges of disruption in supply chains and liquidity.
He said, at every stage of these difficult times, it was the endeavour of the government, under the guidance of the Honourable Prime Minister to provide a support system to the affected sectors by all means available at our disposal. You are aware of the series of steps taken, by the Government, in the form of economic stimulus and policy initiatives last year. They were aimed at supporting the common people and the industry alike. We chose to continue with our policy of accelerating economic growth and creating job opportunities in this year's budget. Our aim was to not only bring the economy back on its positive trajectory but also seek opportunities as a result of this challenge. One of the foremost ideas that were strengthened, as a result, was of Aatmnirbhar Bharat.
He Mentioned the sentiment and approach of Atmanirbhatra also defined our approach towards the defence sector, as part of the Union Budget. The Defence Budget has seen an unprecedented increase of 18.75% in capital outlay, over the last year, and 30% over the year before, which is the highest in the last 15 years. Apart from defence pensions, the budget witnessed an increase of Rs 24,792.62 crore over the financial year 2020-21. There is a close linkage between four factors that drive procurement decisions in defence. These are the threats we face, our aspirations, capability development initiatives, and advancements in technology. While all these factors evolve over time, yet, the attempt remains to provide a degree of continuity as part of the decision-making cycle. I feel that close cooperation between users (Armed Forces) and manufacturers can assist in reducing the gap between the aspirations of the Armed Forces and the reality of manufacturers. For the Armed Forces, it would bring state of art technology and for manufacturers, the opportunity to develop it.
He Further said I would therefore urge our industry partners and the users to remain forward-looking, and to ensure that advancement in technology becomes an inherent factor, for taking forward this mutually beneficial relationship. The only way to cater for technological advancements in an attempt to remain ahead of the curve and yet remain frugal is by Making in India and Thinking Global or you could say the mantra – "Make in India, Make for the World". The defence industry represents a niche domestic market. Eventually, the industry can only thrive by going global. This is the reason why our Government is actively promoting and facilitating not only domestic manufacture but also an export-oriented defence industry.
Today, the most important factor that is going to drive the domestic industry is indigenization or Aatmnirbhar Bharat. We understand that this may lead to higher initial costs. However, the long-term importance of indigenization in defence manufacture dictates that we will willingly take on this short-term impact, to build Indian defence industry for the future.
Keeping this objective in mind, the Ministry of Defence has set a target to achieve a turnover of Rs 1,75,000 Crores (US$ 25 Bn) including export of Rs. 35,000 Crores (US$ 5 Bn) in Aerospace and Defence goods and services by the year 2024.
India plans to spend 130 billion Dollars on military modernization in the next 5 years. Recently, orders for 83 indigenously designed and developed LCA MK1A worth Rs. 48000 Crore have been awarded to HAL. The contract for an indigenously designed Light Combat Helicopter is likely to be signed soon.
Towards this goal, the Ministry of Defence has taken many steps, one of the important ones being bifurcation of capital procurement budget into domestic and foreign capital procurement routes, to ensure procurement from domestic industries. My Ministry has planned to invest, about 63% of the outlay for 2021-22 on domestic procurement,i.e.about Rs.70221 Crore for domestic defence procurement during for 2021-22. This increase will have a positive impact on enhanced domestic procurement, having a multiplier effect on our industries including MSMEs and startups. It would also increase the employment in defence sector.
A major factor for speeding up the procurement process relates to faster decision-making and delegation of financial powers. Keeping this in mind, recently, our Government has approved enhanced delegation of Financial Powers under Capital Procurement for items of Capital nature such as overhauls, refits, upgrades, etc.!This will enhance the utility of existing assets and facilitate faster processing and implementation of projects.
In order to realize the vision of "Aatmanirbhar Bharat', the Government of India has brought many reforms in last 6 (six) years. There is a clear focus of the Government on 'Ease of Doing Business' to encourage foreign OEMs, to set up manufacturing units in India, develop Joint Ventures and promote private participation in defence sector. I would like here to name a few, just to emphasize that the new budget is in continuation of our past commitments and indicates policy stability too.
Industrial licensing requirements have been eliminated for a number of items. Where the Industrial License is still required, the process has been simplified.
The government has notified 46 items under the latest Public Procurement Order 2017, for which there is local capacity available. The procurement of these items shall be done from local suppliers only, irrespective of the purchase value.
Recently, the Offset policy has been revised in 2020, with a thrust on attracting FDI and Transfer of Technology for Defence manufacturing. Higher multipliers have been assigned, to offset discharge in case of development of, MSMEs, manufacturing in India, Transfer of Technology etc.
Friends, Defence Procurement Procedure 2016 has been revised as Defence Acquisition Procedure 2020.It is driven by the tenets of Defence Reforms announced as part of 'Aatmanirbhar Bharat Abhiyan'.
In order to promote indigenous design and development of defence equipment, 'Buy (Indian-IDDM) has been accorded topmost priority , for procurement of capital equipment in DAP 2020.During current financial year, Rs. 75000 Crore worth AoNs have been accorded out of which 87% relate to Make in India.
Ministry is also working on bringing down the delays in timelines of capital acquisition. We will make efforts to complete the defence acquisition within 2 years, instead of the existing 3-4 years being taken on average.
As you are aware, Ministry of Defence has notified a 'Negative list' of 101 items for which there would be an embargo on the import beyond the timeline indicated against them. This is a big step towards achieving self-reliance in defence. This would offer a great opportunity to the Indian defence industry to manufacture these items using their own design and development capabilities to meet the requirements of the Armed Forces in the coming years. The negative list provides a long-term visibility on defence procurement plans. This shows our resolve towards Atmanirbhar Bharat. We now intend to notify the next list of items and would also request Secretary DMA that they should also consider including certain spares currently being procured from outside so that we could indigenize the same. I look forward to the discussion on this subject later today.
The embargo on imports is planned to be progressively implemented between 2020 to 2024. All necessary steps would be taken to ensure that timelines for production of equipment as per the Negative Import List are met, which will include a co-ordinated mechanism for hand holding of the industry by the Defence Services.
Friends, as you may be aware, the 'Make' Procedure of capital procurement has been progressively simplified. There is a provision for funding up to 70% of development cost by the Government to Indian industry under the Make-I category. In addition, there are specific reservations for MSMEs under the 'Make' procedure. Recently, Financial powers have also been enhanced to support prototype development under 'Make-I'. This is in line with the Government's vision of 'Aatmanirbhar Bharat' and 'Make in India' for a robust defence industrial ecosystem.
Similarly, the Procedure for 'Make-II' category which was introduced in DPP 2016 to encourage indigenous development and manufacture of defence equipment, has a number of industry-friendly provisions such as relaxation of eligibility criterion, minimal documentation, provision for considering proposals suggested by industry/individual, etc. So far, 55 projects relating to Army, Navy & Air Force, have been accorded 'Approval in Principle', valuing about Rs. 30,000 Crores.
A new 'Make-III' procedure has also been introduced in DAP 2020 so that the Indian firms may manufacture defence items locally either in collaboration with or ToT from foreign OEMs.
Apart from these, the Government of India has also established Technology Development Fund (TDF) Scheme under the 'Make in India' initiative to create an eco-system for enhancing cutting edge technology capability by inculcating R&D culture in Industry for building indigenous state-of-art systems for defence applications and import substitution. Our flagship program of Innovation for Defence Excellence (iDEX) is also making headways into greater innovation. To give a major boost to innovative defence technology and support a Start-ups base in the country, the Ministry of Defence has planned to channelize about Rs. 1000 Crore during 2021-22 for procurement from iDEXStart-ups.
We understand the importance of collaboration and cooperation if India has to emerge as a manufacturer of repute at the Global stage. Therefore, the Government has notified the 'Strategic Partnership (SP)' Model in May 2017. It envisages the establishment of long-term strategic partnerships with Indian entities through a transparent and competitive process. There would be tie-ups with global Original Equipment Manufacturers (OEMs), to seek technology transfers and to set up domestic manufacturing infrastructure and supply chains.
I have provided details of a number of initiatives that will help promote domestic manufacture. We wish to fully support the industry through these steps and also to collaborate with technology leaders from across the world.
Our initiatives have resulted in staggering 700% growth in defence exports in the last 6 years. India entered in the list of top 25 Exporters in the world as per data published by SIPRI in 2020. We have also notified the Open General Export License (OGEL) – a onetime export license, which permits the industry to export specified items to specified destinations, enumerated in the OGEL.
To widen the investment base, the Government of India has enhanced FDI in Defence Sector up to 74% under Automatic Route and 100% under Government route.This would further act as a catalyst for foreign players to invest in India. The opening up of the defence sector for private sector participation is helping foreign OEMs enter into strategic partnerships with Indian companies and leverage opportunities in the domestic market as well as global markets. Due to these reforms, the FDI in India in Defence sector has jumped by more than 200%. Rs. 2,871 Crore worth FDI has been invested in defence sector in last 6 years.
I have been informed that various interactive sessions will be held today. These sessions will deal with the defence eco-system by the Defence secretary;industries' perspective on defence budget 2021-22 ;discussions by Department of Military Affairs officials on negative list ; procurement and acquisition issues by Acquisition Wing, etc.
While concluding he said, "I am sure that the deliberations of the day, will throw up options and solutions in our collective bid to seek the right answers; for not only becoming Aatmnirbhar, but also a Vishwavyapi Defence manufacturer and exporter."
Posted Date : 22-02-21
Categories : PSU NEWS
Tag Cloud: PSU NEWS