Shri Manoj Kumar Prasad Selected for Director (Tech) of SECL PESB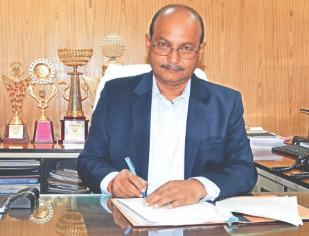 New Delhi: Shri Manoj Kumar Prasad,
General Manager, Khadia Area,
Northern Coalfields Limited
(NCL), has been selected for the post of Director (Technical) of
South Eastern Coalfields Limited
(SECL). Public Enterprise Selection Board (PESB) on Wednesday recommended the name of Shri Prasad for this post. Shri P.K.Sinha, Chairman & Managing Director (CMD) of NCL along with the Functional Directors congratulated Shri Prasad on the achievement.
Shri Prasad has experience of more than 33 years in the field of the open cast and underground coal mining. Prior to joining as General Manager of Khadia, Shri Prasad has also been the General Manager of Dudhichua and Bina opencast projects of NCL. During his tenure, these coal areas recorded a significant increase in production and productivity. It was his tenure during which Bina area expanded its capacity from 4.5 million tonnes per year to 7.5 million tonnes. Likewise, under his leadership, the coal production of Dudhichua OCP increased from 10.9 million tonnes to 15.5 million tonnes
Known for his wonderful administrative and managerial abilities, Shri Prasad graduated in mining engineering from BHU in the year 1985 and started his services as a Mining Engineer in Central Coalfields Limited, a subsidiary of Coal India Limited. After CCL, he served in SECL and during his tenure at SECL, he has been the Mines Manager of India's largest coal mine 'Gevara' OCP for more than six years. During the said period, Gevra's coal production increased from 19 million tonnes to 35 million tonnes per annum.
Keen on introduction and adoption of IT initiatives, Shri Prasad was also associated with Information Technology (IT) Department of NCL and CCL and during his term, many IT Initiatives were launched in these companies. Shri Prasad has also visited Autralia under technology transfer programme during the year 1994 and led Coal India business delegation team to Australia during 2017.
Notably, with double digit growth in coal production, Northern Coalfields Limited has produced about 73 million tonnes of coal to date which is 102 percent of the target of the company by far. In the last financial year, the company had surpassed targets producing more coal than assigned.
The General Managers of coal producing areas of NCL being selected for directorship of companies is yet another testimony to NCL's performance excellence. Recently, the General Manager of Nigahi Area of NCL took over as Director (Technical) of WCL. Prior to this, Shri S.K. Jha General Manager, Amlohri Area became the Director (Technical) of ECL.
Posted Date : 27-12-18
Categories : PESB
Tag Cloud: PESB