NALCO Celebrate 40th Foundation Day HONOR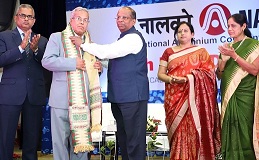 Bhubaneswar. National Aluminium Company Limited (NALCO) conferred prestigious Awards to artists, institutions / NGOs and eminent scholars to promote Odissi dance, contribution towards rehabilitation of differently-abled personsand for propagating Sanskrit literature, to mark the 40thFoundation Day Celebrations, at Nalco Nagar, Bhubaneswar.
The Company awarded the 'NALCO Kalidas Awards' to Shri Prof Prafulla Kumar Mishraand Prof Raghunath Panda. ,NALCO 'Kharavela Awards (Guru)' were bestowed on Shri Bharat Manjushree Panda was conferred with 'NALCO Kharvela Awards (Dancer) for their significant achievements and contributions to Odissi Dance'.
'NALCO Smiles Award' was awarded to Ganjam Orthopedically Handicapped Welfare Association for their efforts towards resettlement and rehabilitation of differently-abled children/persons. All the awardees were honoured with a cash award and citation.
Addressing the occasion, Shri Sridhar Patra, CMD, NALCO praised all the awardees for their significant contributions iand said, ''NALCO has come a long way over the last 4 decades. Shri Patra congratulate all Nalconians who have worked hard all these years to make NALCO a formidable corporate entity of our Nation.''
Posted Date : 08-01-20
Categories : HONOR