NCL inks MoU with CNUPL, A Historical step towards Renewal MOU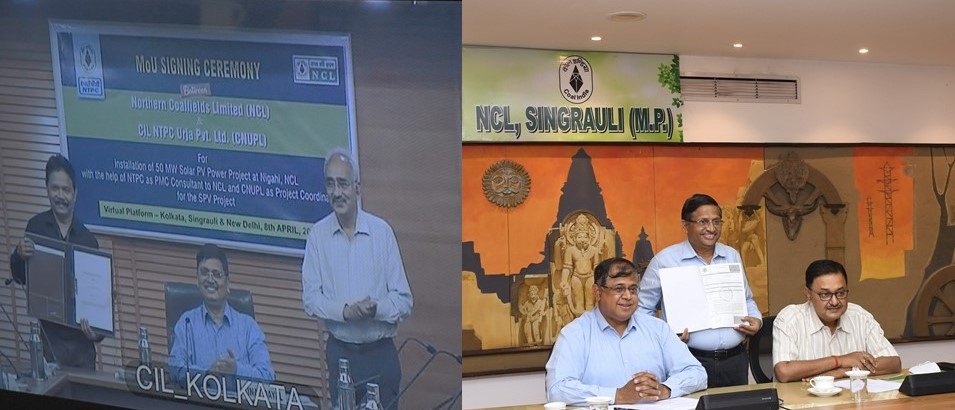 NCL inks MoU with CNUPL A Historical step towards Renewal
New Delhi. In A groundbreaking step towards Renewable energy and to become a Net Zero energy company, Northern Coalfields Limited inked a Memorandum of Understanding (MoU) with CIL & NTPC Urja Pvt Limited (CNUPL), for installation of 50MW Solar Power PV project at Nigahi Area, Singrauli (M.P.) on Thursday in a ceremony held through Video Conferencing.
The MoU was signed in the presence of Director Technical, Coal India Limited Shri Binay Dayal, Director Operations NTPC Shri Ramesh Babu, Director (Technical/operations) Dr. Anindya Sinha, Director (Technical/Project and Planning) Shri S S Sinha, Chairman, CNUPL Shri M K Singh and other officials of Coal India Limited, NTPC, CNUPL and NCL through Video Conferencing.
General Manager (E&M) Shri S K Verma on the behalf of NCL and CEO CNUPL Shri B K Panda on the behalf of CNUPL signed the MoU.
Director Technical Coal India Limited Shri Binay Dayal congratulated CMD NCL Shri P K Sinha and his team and wished best for the early completion of the project. Adding that it is the largest project in the renewal field by CIL till date, he remarked it as the historical day for CIL in green energy.
Director (Operations), NTPC Shri Ramesh Babu also congratulated the entire project team. While extending his full support as Project management Consultant, He hoped that more such projects will come up in near future.
Director (Technical/Operations) Dr. Anindya Sinha affirmed NCL's commitment to become a Net Zero Energy company and said that this step will reduce carbon emission by about 78020 Tonnes/Annum. He apprised that this project will fulfill about one-fourth energy requirement of NCL and assured that the project will meet its expectation.
Northern Coalfields Limited is Singrauli, The energy capital of India-based Miniratna company and Subsidiary of Maharana Coal India Limited. NCL digs 115 MT coal annually with its 10 highly mechanized open cast coal mines for the energy aspiration of the country. With an aim of captive power consumption, NCL's 50MW power plant will foster NCL to become a net-zero company which enables it to cater 100 percent of its own power needs from renewable sources or generate its own renewable energy onsite for mining and auxiliary operation.
NCL has already started work on rooftop solar with a capacity of 3.37MW on its offices and residential complexes. NCL is likely to contribute about 280 MW in its share of Coal India Limited's target.

Notably, Coal India Limited & NTPC Urja Pvt Limited (CNUPL) is A joint venture of CIL & NTPC incorporated with an objective of development of Coal Mine and Renewable Energy
Posted Date : 08-04-21
Categories : MOU
Tag Cloud: MOU